Just because you're outdoors doesn't mean you're safe from the coronavirus. Lean in close for a conversation, shake hands, start hugging people without a mask on, and your risk level rises fast. And just one sneeze from an infected person in your face could infect you, too.
This is as true for you and me as it is for guests at a recent White House Rose Garden ceremony. The fact is, being outside isn't risk-free but there are ways to make it safer, as University at Buffalo infectious disease doctor Thomas Russo explains.
Also today:
Stacy Morford

General Assignments Editor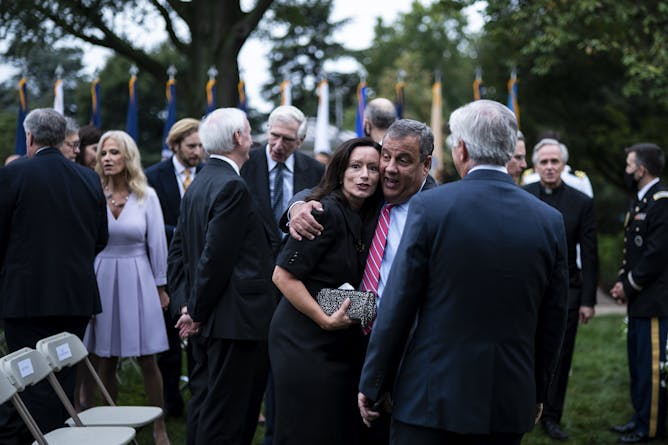 The outdoors is less risky than an enclosed room, but it isn't a COVID-free zone. Here's what you need to know.
Politics/Election '20
People typically underestimate how much white nationalism goes on in the military, but when they learn the truth, they're concerned.

Biden and Trump are both preparing for a court battle in November. But when the Electoral College produces no clear winner, it's the House of Representatives that's supposed to select the president.
Education
Health
With a COVID-19 outbreak in the White House, people are watching the health of President Trump and many others. A doctor explains the possible course for this unpredictable disease.

Patients suffering from severe COVID-19 may be experiencing a rogue antibody response similar to that seen in autoimmune diseases. The findings offer new approaches for COVID-19 therapy.
Economy + Business
Environment + Energy
PFAS chemicals are toxic, widespread and persistent in the environment, and the federal government has been slow to regulate them. A scientist explains why evaluating them one by one isn't working.
Arts + Culture
Science + Technology
From our International Editions
The gap between predictions of COVID-19 deaths in Africa and what has actually happened is staggering.

A Facebook ban on QAnon may not be the best way to address the fast-growing far-right conspiracy movement.

New York's Guggenheim Museum has acquired Maurizio Cattelan's Comedian but how can you value and own a banana and some tape?