Since Kabul fell without a fight two months ago, there's been no shortage of critiques of what the U.S. accomplished militarily in Afghanistan. But billions of dollars in economic aid also gushed into that country for two decades from the United States, along with support from U.S. allies and international institutions like the World Bank.
The record for that nonmilitary assistance, which has drawn less attention in the media, is similarly grim, writes Mohammad Qadam Shah, a scholar of global development who's originally from Afghanistan. While researching the country's aid administration, he found it rife with "mismanagement" and "systemic corruption" – despite clear gains in education. This legacy adds to the precariousness of the country's path forward under the Taliban, even as some humanitarian assistance starts to flow again.
Also today: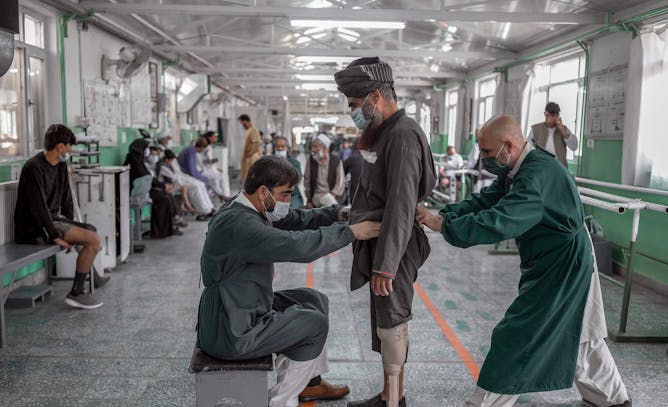 A scholar from Afghanistan outlines what more than $150 billion in assistance did and didn't accomplish in two decades following the arrival of U.S. troops un 2001.
Environment + Energy
The world isn't on track to avoid dangerous climate change, and this year's climate conference, COP26, is crucial, a former senior UN official writes.

A recent survey finds that the pandemic made it harder for many US households to put food on the table. It also changed the ways in which people buy and store food.

It's been 80 years since the last undisputed sighting of the striking black-and-white bird. The U.S. government believes the ivory-billed woodpecker is extinct — but many will keep searching for it.
Politics + Society
Science + Technology
Halloween, with its mix of the macabre and the playful, provides a moment to reflect on how closely life and death are interwoven – especially in 2021.
Health + Medicine
Education
From our International Editions