How do you figure out how effective a vaccine needs to be if you can't test it widely on humans? A team of health and computer scholars took up that challenge, and they have a warning for anyone counting on a vaccine to mean the end of social distancing.
They created a computer simulation of every person in the United States to test how effective a vaccine would have to be for America to confidently stop social distancing. It turns out it isn't just about the vaccine – human behavior also plays a crucial role.
Also today: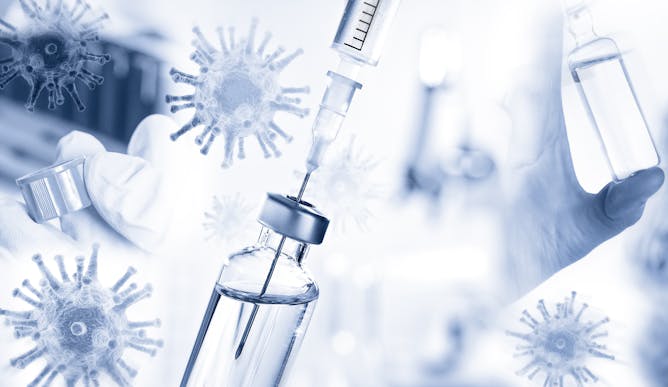 A vaccine that's 70% effective might not be good enough if too few people are willing to be vaccinated, new research shows.
Science + Technology
The percentage of people who die from a coronavirus infection is an important number for public health experts to know. Recent estimates now put it at 0.26%, far lower than initially thought.

Psychologists call these traits the 'Big Five': openness, conscientiousness, extroversion, agreeableness and neuroticism. A researcher suggests your profile implies your response to social distancing.
Economy + Business
Politics + Society
Mathematically speaking, the Electoral College is built to virtually ensure narrow victories, making it very susceptible to manipulation and disinformation.
Education
For US parents, the health, economic and social crisis the COVID-19 pandemic brought about is compounded by the difficult if not impossible task of working, caring for and educating kids.

Children will probably be OK, especially if their families make sure this elevated level of screen time doesn't turn into a long-term habit.
Trending on Site
Women of color are woefully underrepresented in leadership positions in higher education. What will it take to turn things around?

More than 200 scientists wrote to the World Health Organization, warning about aerosol transmission of the coronavirus.

As the US battled the 1918 influenza pandemic, some communities staged contentious battles against wearing masks. Sound familiar?