Nursing homes have been at the center of the U.S. coronavirus outbreak since the beginning and account for a third of all deaths. Yet while some facilities have seen severe outbreaks, others have reported relatively few cases.
Anna Amirkhanyan, Austin McCrea and Kenneth J. Meier, public policy scholars at American University, have been reviewing coronavirus cases and deaths at nursing homes across the country. They believe three factors largely determine how well a facility responds to an infectious disease outbreak.
Also today:
We'd also like to take a moment to let you know about an opportunity to support our work and double your impact. The Rita Allen Foundation will match up to $10,000 of donations this week. Thank you in advance.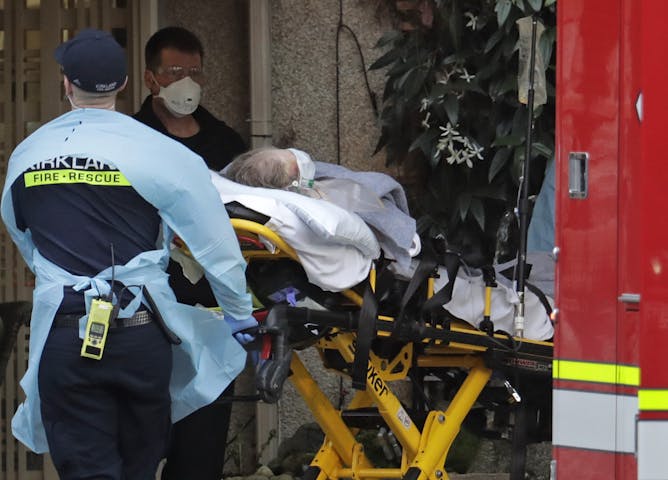 While nursing homes have accounted for more than half of COVID-19 deaths in some states, they've barely been a factor in others. Three experts explain why.
Health
The FDA has sped up its approval process for coronavirus treatments, creating a new division to expedite the regulatory process. But is safety being sidelined for speed?

With the county facing a crisis in emotional health, we may need two vaccines: one for COVID-19 and another for toxic stress. Here's a technique for dealing with all that stress.
Arts + Culture
Politics + Society
The agency's earliest ad campaigns emphasized youthful idealism, patriotism and travel opportunities. That was an easier sell than urging Americans to enlist in an anti-communist operation.

Many militia members have championed the importance of individual rights, but have also backed a president who is now threatening the kind of crackdown they fear.
Environment + Energy
Ethics + Religion
If worshippers congregate outside amid coronavirus fears, it wouldn't be unprecedented. Early settlers used outside worship to sanctify colonized land, and slaves relied on it to meet in secret.

As the COVID-19 pandemic exposes the risks of an interconnected world, Indian thinkers offer timely insights on how to understand our global community and act more wisely.
Trending on site
Why does COVID-19 hit men harder than women? Is the disparity in mortality rates due to male hormones or an underlying difference in the male versus female immune system?

Cosmologists had only been able to find half the matter that should exist in the universe. With the discovery of a new astronomical phenomenon and new telescopes, researchers just found the rest.

The anti-fascist movement is a decentralized collection of individual activists who mostly use nonviolent methods to achieve their ends.