Vice President Kamala Harris arrived in Guatemala on Monday on a mission to curb immigration from Central America to the U.S. At the same time, there's at least one group of migrants the Biden administration is exploring ways to help come to America's shores: those driven from their homes by climate change.
That's in part because today's laws, regulations and even international agreements don't offer any special protection to migrants fleeing drought fueled by climate change. But while the problem is urgent, solving it won't be easy, argue Katharine M. Donato, Amanda Carrico and Jonathan M. Gilligan, experts in climate policy and migration. They explain the challenges climate migrants face and why "climate migrant" is so hard to define.
Also today: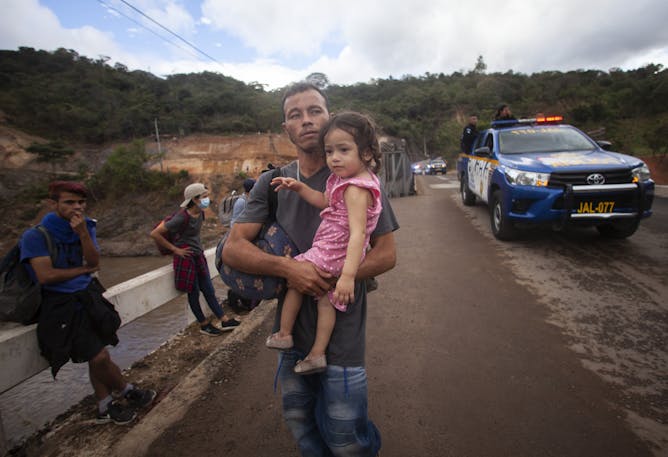 Climate migrants don't fit neatly into the legal definitions of refugee or migrant, and that can leave them in limbo. The Biden administration is debating how to identify and help them.
Politics + Society
Questions include whether women should be compelled to register, as men are, and whether the draft and draft registration should exist at all.

Thirty-six candidates were murdered since campaigning began in Mexico last September, including numerous members of the president's own Morena party.

President Muhammadu Buhari's Twitter shutdown will be hard to enforce and could have dire consequences for Nigeria's fragile democratic institutions and economy.
Arts + Culture
Education
Applying cultural sensitivity in teaching STEM to Black students can help them engage in the sciences more.

New research on Atlanta-metro students suggests they fell 7-8 months behind on learning during the pandemic.
Environment + Energy
Abandoned US oil and gas wells and their associated land cover more than 2 million acres, a recent study estimates – an area larger than Delaware and Rhode Island combined.

Satellites can already spot a new fire within minutes, but the information they beam back to Earth isn't getting to everyone who needs it or used as well as it could be.
From our International Editions
To weigh the prospects of a transformation, it pays to look at the markets.

Supersonic jet technology has moved on since Concorde's final flight in 2003.

Australotitan was a massive long-necked sauropod estimated to weigh the equivalent of 1,400 red kangaroos.

---

Today's graphic