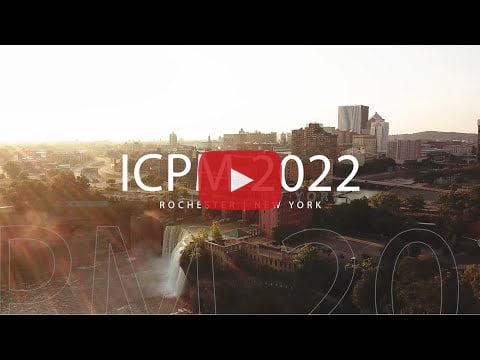 Register Now! Early Bird Registration Discount for ICPM Ends July 15th
We are excited to be hosting the 26th World Congress of the International College of Psychosomatic Medicine (ICPM) from September 7-9, 2022. The Congress will feature a stimulating academic program that includes cutting-edge research in bio-psycho-social, brain-behavior-health-disease relationships. Many of our speakers are world renowned leaders in research and academia. The deadline for early registration has been extended to July 15th. Register by this date to receive a discounted rate. READ MORE>>>
New Name, Same Content
We're excited to announce the new name for our Department of Psychiatry newsletter- The Engel/ Romano Report: Highlighting UR Psychiatry News. This new title reflects the history of our department and our founders, George Libman Engel, MD and John Romano, MD, as well as the future of the biopsychosocial model.
Excellence of URMC Faculty, Staff Recognized by Quality Institute, URMC Board
Our Comprehensive Psychiatric Emergency Program team and Evelyn Santos, BSN, RN, PMHN-BC, lead nurse at Psychiatry and our Lazos Fuertes services, were recently recognized by the UR Medicine Quality Institute and the URMC Board with Board Excellence Awards. This award recognizes people and teams that provide exceptional care provided each day to patients. Congratulations to both for this well-deserved award! READ MORE>>>
Department of Psychiatry Holds Annual Trainee Poster Day
On June 1st, we held our annual Department of Psychiatry Trainee Poster Day. This poster showcase highlighted the research and work of our graduating trainees during their time at the University of Rochester.
Pediatric Behavioral Health and Wellness at Stroll for Strong Kids
Photo by Linda Alpert-Gillis, PhD
Thank you to everyone that stopped by our Pediatric Behavioral Health and Wellness Service's table at the Golisano Children's Hospital's Stroll for Strong Kids on June 3rd. A big thank you also goes out to our Pediatric Behavioral Health and Wellness Services staff and faculty who were at the table providing nearly 300 coping kits with yoga poses and stress balls and discussing the mental health benefits of exercise with families. READ MORE>>>
Meet the Latest KL2 Career Development Awardees
Aileen Aldalur, PhD is among the awardees of the University of Rochester's Clinical & Translational Science Institute's KL2 Career Development Awards. This award provides early-career scientists with mentored research support. Dr. Aldalur will be adapting Cognitive Behavioral Therapy for use with Deaf individuals. READ MORE>>>
ABPN Names Dr. Jeffrey Lyness as President and CEO
In bittersweet news, Jeffery Lyness, MD has been recently named as the new President and Chief Executive Officer of The American Board of Psychiatry and Neurology (ABPN) effective January 1st, 2023. This very important position oversees the overall board certification and re-certification processes for all psychiatrists and neurologists along with other important functions. Sadly, this means that Dr. Lyness will be leaving our department and Rochester for this new role in Illinois this winter. During his time in Rochester, Dr. Lyness has served in multiple leadership roles in our department including as Associate Chair of Education.
Hochang Ben Lee, MD, John Romano Professor and Chair of the Department of Psychiatry, spoke about Dr. Lyness's career, saying "Jeff will be sorely missed at URMC as he has also been a consummate teacher, an excellent researcher, and a model clinician who set the standard for the trainees at all levels. Soon, as the President of the ABPN, he will set the standard for all psychiatrists and neurologists, and this is excellent news for the fields."
Please join us in wishing Dr. Lyness all the best in his new role! READ MORE>>>
Michael Privitera to Retire
A celebration was held in June to celebrate Michael Privitera, MS, MD's retirement. During his career, Dr. Privitera has been a thought leader in addressing disruptive behavior, patient satisfaction and burnout in physicians. Among his various roles, he served as Medical Director of the Medical Faculty and Clinician Wellness Program which supports clinicians through institutional changes. Please join us in thanking Dr. Privitera for all his years of service!
Alexis Sklair Joins Division of Collaborative Care & Wellness
Please join us in welcoming Alexis Sklair to the Department of Psychiatry! Sklair will be joining our Division of Collaborative Care and Wellness as an administrative assistant to the division's leadership.
Exploring Suicide Risk among Youth Involved with the Justice and/or Child Protective Services Systems
The TRANSFORM Research Center will be hosting their next webinar on June 30th, 2022 from noon to 1 PM. Kristen Quinlan, PhD, and Alexandra Karydi, PhD, LMFT, CAC, CASAC II will discuss suicide risk among those engaged with youth-serving state systems and will provide examples of policy and other system-level changes that would better support youth at risk. To register for the live event, click here. To register to receive the recording and presentation materials, click here.
Summer Brown Bag Series Starts July 13th
The first session of our Department of Psychiatry 10th Annual Brown Bag Series, "Using the Biopsychosocial Model to Promote Equitable Care at UR Medicine," is July 13th. Join us in a conversation every Wednesday from July 13th to August 24th from noon to 1 PM on how the biopsychosocial model is being integrated into care at UR Medicine, particularly in relation to working with diverse communities and vulnerable populations. An optional Q&A will take place from 1 PM to 1:30 PM. The first session will be focused on the past, present, and future of the biopsychosocial model and will provide an introduction to the Brown Bag Series. This program is created in partnership with the Departments Of Medicine, Neurology, and Pediatrics, UR School Of Nursing, and the Wilmot Cancer Institute. Register for the series here.
Focus: The Impact of Aesthetics on Health and Healing
The Bridge Art Gallery was recently featured in an issue of Lake Affect Magazine alongside the Eastman School of Music's Eastman Performing Arts Medicine initiative and the work of Charmaine Wheatley, artist-in-residence at UR Medicine, in a highlight of how the arts are being used to promote healing and health in Western New York. READ MORE>>>
Chronic Pain Makes You Think Differently
Studies reveal that persistent pain alters parts of the brain involved in decision-making like risky financial ventures and unhealthy food choices. Paul Geha spoke with Discover Magazine​ on what scientists know so far on how pain impacts our eating habits. READ MORE>>>
June Psychiatry Publications