During the civil rights era, many Americans were peripherally aware of regular skirmishes between protestors and the police. But on March 7, 1965, one of these clashes couldn't be ignored. With millions of Americans settling in to watch their Sunday night shows, the major news networks interrupted their regularly scheduled programming to broadcast footage from Selma, where a 25-year-old activist named John Lewis was attacked and gassed by the police.
University of Virginia media historian Aniko Bodroghkozy explains how these images jolted the nation's conscience, making voting rights an issue they could no longer ignore. In the process, a civil rights icon was born.
Also today:
Nick Lehr

Arts + Culture Editor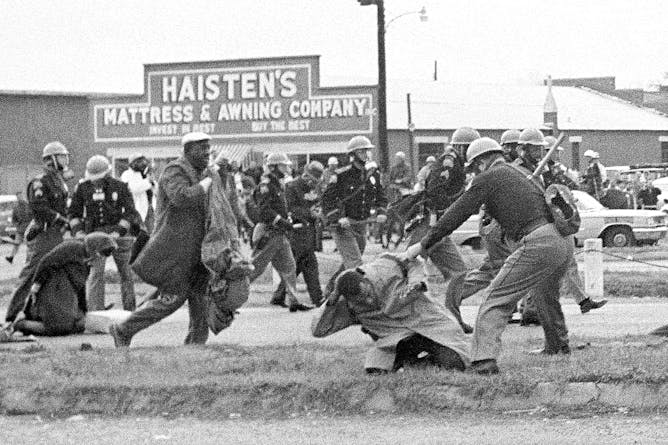 Thanks to some serendipity and fortuitous timing, the images emerging out of Selma had a uniquely powerful effect on the nation.
Science + Technology
Many people who participate in disinformation campaigns are unwitting accomplices and much of the information they spread is accurate, which makes it all the harder to identify the campaigns.

When you ask Americans what the word 'science' brings to mind, a majority respond 'hope.' Using this built-in brand can help communicate important science messages.

Stone tools found in a cave in Mexico have archaeologists rewriting the human history of the Americas.
Education
When lockdowns went into effect earlier this year, interest in massive online open courses, or MOOCs, began to surge. An expert expects the interest to continue.
Ethics + Religion
Health
Politics + Society
Economy + Business
Most read on site
A team of researchers from Indiana University performed random testing for SARS-CoV-2 across the state. The results offer some of the most accurate data to date about important aspects of the virus.

For a COVID-19 vaccine to stop the pandemic, a large percentage of the population will have to get vaccinated. A law professor explains how far government and employer vaccine mandates can legally go.

The percentage of people who die from a coronavirus infection is an important number for public health experts to know. Recent estimates now put it at 0.65%, far lower than initially thought.