Social media platforms like Instagram and Facebook are where many people share some of the best moments of their lives. But as Caitlin Elsaesser, an assistant professor of social work at the University of Connecticut, found out from interviewing young people in Hartford, Connecticut, the platforms have also become popular places to stir up trouble. What often starts out as an online spat can quickly escalate into fistfights or even gunplay. Elsaesser suggests that social media conflicts that go from cyberspace to the streets can no longer be ignored.
Also today: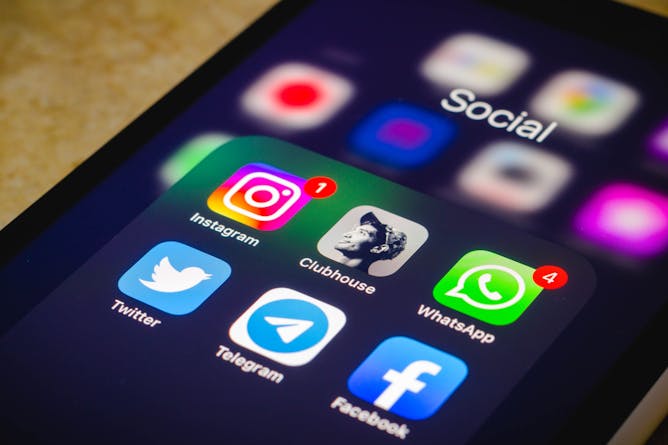 Social media isn't just mirroring conflicts happening in schools and on streets – it's intensifying and triggering new disputes.
Environment + Energy
The US electricity grid is actually five regional grids, and it's hard to share power between them. A macrogrid could bridge the gaps, making electricity cheaper and more reliable.
Economy + Business
Before the container was standardized, loading and unloading goods was very labor-intensive, inefficient and costly.
Education
The federal government has temporarily widened eligibility for food assistance to more students. Two scholars argue this needs to be made permanent and be accompanied with an awareness campaign.

Not all free college programs are the same. New research finds that eligibility requirements and other features influence outcomes.
Health
Millions of healthy people, including seniors, delayed care because of the pandemic. It's time to get back to the doctor.

New CDC guidance permits domestic travel for fully vaccinated individuals, as long as social distancing is respected. International travel guidelines are different.
Science + Technology
Trending on Site
A scholar explains the rich historical roots of Easter and how it has evolved over the centuries.

The vaccine rollout is underway, but what happens if there is a supply disruption? Would it be feasible to change strategy and give more people a first dose? An expert analyzes the data.

Even if every human being on Earth went for a dip in the ocean at the same time, they'd be just a drop in the bucket compared to the size of the planet's seas.