Through various visa restrictions and other measures, the Trump administration hasn't exactly been making it easy for students from China to study in the United States. But other factors could also soon conspire to keep Chinese students – and the $15 billion they spend each year in tuition at American colleges and universities – at home. Andrew Swindell, a Ph.D. candidate in international education at the University of California, Los Angeles, lists the various forces, including improving Chinese universities and job prospects, that may induce more Chinese students to earn college degrees in their native land.
Also today: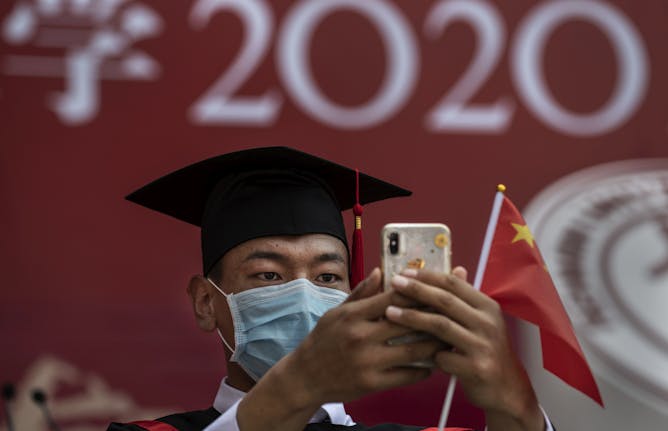 A loss of Chinese students from the US – and the US$15 billion they spend on tuition – could have serious repercussions for American colleges and universities.
Science + Technology
Ethics + Religion
Infection rates of COVID-19 have soared among prisoners in the US. An expert on penal policy considers what is 'unjust and disproportionate' punishment at this time.

A team of scholars have been documenting the sound of worship for six years. Since the lockdown, they have heard a different form of religious expression.
Environment + Energy
Health
Arts + Culture
The author's novels, famous for their bleakly sociopathic depiction of American culture, testify to the insanity and abusiveness that surround us.

News of the Hiroshima bombing spread quickly to the US public but, thanks to science fiction writers, atomic bombs were discussed more before the war began than during it.

In the wake of the atomic bombs, a number of Japanese animators would question mankind's relationship with technology.
Trending on site
Some viruses can hide out in the body and reemerge at later times. Which viruses do this, and can the new coronavirus do this too?

The $600 federal jobless benefit may be generous, but that doesn't mean is isn't what workers and the US economy need.

It's a myth that Black voters represent monolithic support for Democrats. A recent survey shows that young Black Americans in swing states have big reservations about Joe Biden, Democrats and voting.