2020 has been a lousy year for humans, but an awesome one for science.
Beginning in February, scientists and physicians around the world made a series of scientific breakthroughs. They decoded the genetics of the deadly SARS-CoV-2 virus, and figured out how it invaded cells, made people sick with COVID-19 and sometimes killed them. They developed diagnostic tests, and researchers at pharmaceutical companies created, tested and manufactured several spectacularly effective vaccines. And they did it all in nine months – a record, writes David Pride, a physician and scientist at the University of California, San Diego.
With vaccines now being injected into the arms of people in the U.S. and around the world, the end of this terrible, horrible, no good, very bad pandemic is in sight.
So I say: GO SCIENCE! And keep wearing your mask.
Also today: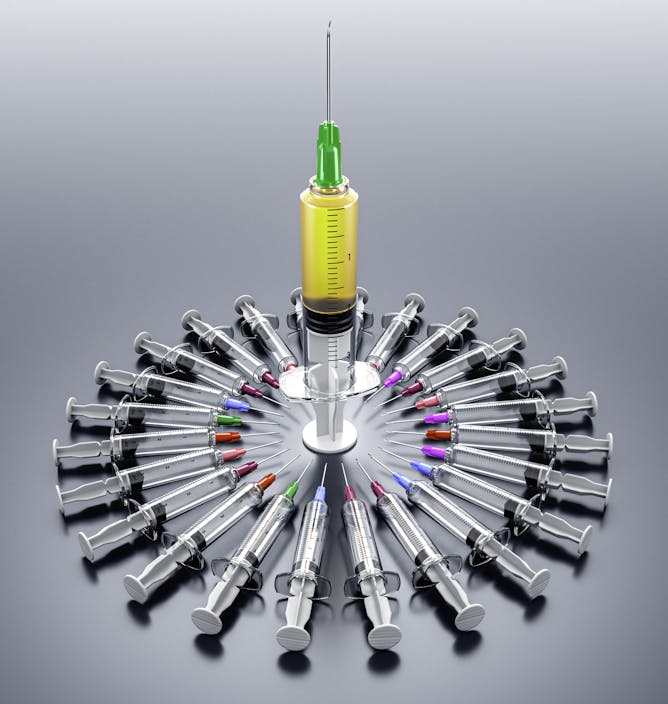 The development of multiple vaccines against the virus that causes COVID-19 has been hailed as the breakthrough of 2020. But there were many more supporting discoveries that made this possible.
Economy + Business
Health + Medicine
Politics/Election '20
President-elect Joe Biden's intent to nominate a recently retired general to lead the Pentagon would require an exception to federal law.

Victim impact statements give survivors a voice in the criminal justice process. But research shows their wrenching personal testimonies may not bring closure and can add racial bias into sentencing.
Environment + Energy
The Trump administration is rolling back a regulation that requires showerheads to conserve water, which saved owners an average of US$70 and nearly 3,000 gallons of water yearly per showerhead.

Llama toys, therapy lamas, petting zoo llamas: llamas are hot in the US, surpassing unicorns in popularity, but their relationship with South American people stretches over 7,000 years.
Ethics + Religion
Multimedia
From our international editions
For the UK to exit the EU on genuine Australian, no-deal or WTO terms, the British government would need to reject the WA/NIP. This now appears unlikely.

Assessing around 500 of the composer's correspondence, we are able to see how a rise in sadness and other negative emotions resulted in increased creative productivity.

None of Canada's past climate targets or plans has been credible. But the math on the latest plan, which relies on a steadily increasing carbon price, could have Canada meet its 2030 goal.