Staying 6 feet apart is a useful rule of thumb for staying safe from the coronavirus outside. But as cooler weather arrives, we'll all be spending more time indoors.
That's where social distancing gets more complicated – 6 feet isn't always enough. A team of experts in aerosols and fluid dynamics at Clarkson University explains why – and how to stay safe inside – with the help of a smoky room.
Also today:
Stacy Morford

General Assignments Editor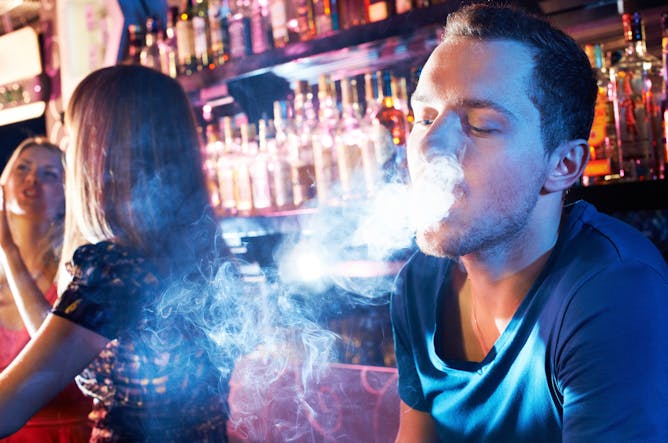 The 6-foot rule for social distancing doesn't account for all risks, particularly indoors. Here's what everyone needs to understand as cooler weather moves more activities inside.
Politics/Election '20
Americans are mad – fist-fighting, protesting mad. And that's just how politicians want voters in election season. But the popular anger stoked by candidates doesn't just dissipate after the campaign.

The advocates of friendship as a way to solve America's partisan divide are wrong. There are more effective ways to tackle intractable political problems.

Some calls to resolve racial inequities in the US have raised an idea with roots more than a century old: community land trusts to assemble property for the benefit of Black Americans.
Health
Using random testing, researchers in Indiana were able to calculate death rates by age, race, and sex and found sharp increases in risk of death among older and non-white state residents.

Stoppages of clinical trials are a normal part of the testing process, and show that patient safety is being taken seriously.
Science + Technology
The plague of unsolicited automated phone calls isn't abating. By studying robocalls, scholars at the Robocall Observatory are developing ways to help shut them down.

A warming climate may change the types of viruses that thrive. A new report suggests that the threat of malaria may be replaced by dengue, for which there is no treatment and no cure.
Education
Arts + Culture
Trending on Site
Some 10,000 people are likely to give up their US passport this year, way above average. Are they fleeing COVID-19? Nasty politics? Taxes? None of the above, says an expert on American citizenship.

Lessons from history make clear that the federal government can spur medical innovation in a crisis, including this pandemic. Providing certainty and clarity is critical.

A new plan targets areas around the world that can store carbon and protect large numbers of species. It calls for preserving these lands, working with Indigenous peoples and connecting wild areas.