The devastating news of the Uvalde, Texas, elementary school shooting in May came just as many parents, like me, were attending end-of-school-year ceremonies and unpacking school backpacks for the summer. Some parents still had weeks left of sending their kids to school and immediately had to face unthinkable conversations with their children. Others delayed those conversations and difficult questions, but will inevitably have to face them as kids return to school this fall.
How much detail should you give them? How do you help kids at different ages process the news? And perhaps the most impossible question of all: How do you reassure them that they can go to school and feel safe?
Whether it be about mass shootings, war, COVID-19 or other traumatic events, kids and adolescents are increasingly bombarded with news that is difficult to process. And research shows that kids and adolescents can be affected by their news exposure for months or years after. Nicole Martins and Erica Scharrer, communications scholars from Indiana University and the University of Massachusetts Amherst, respectively, who study media's effects on children, offer evidence-based and practical advice for how and how much to talk to kids of different ages about the difficult news they are encountering.
Also today: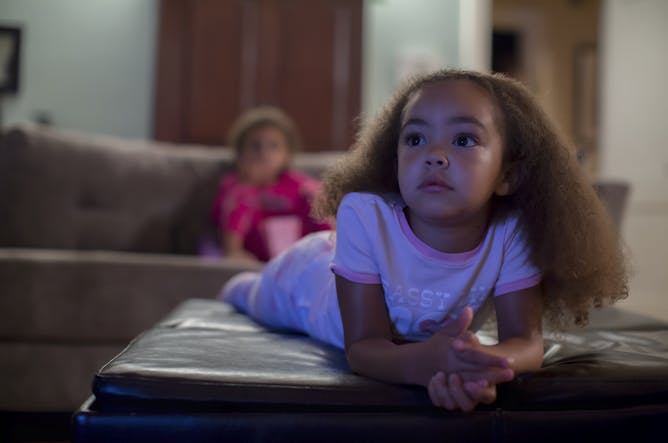 The unending stream of violence on news and entertainment programming can have a negative impact on kids of all ages.
Science + Technology
Crowdfunding has become a go-to means of raising money for political causes, but the monetary show of support can cause opponents to double down on their opposition.

A biologist explains how researchers nail down the age of ancient fossils thanks to a physical process called radioactive decay.
Environment + Energy
Nutrient pollution fouls lakes and bays with algae, killing fish and threatening public health. Progress curbing it has been slow, mainly because of farm pollution.
Politics + Society
Abortion funds, which help people who cannot afford the procedure, are facing new kinds of pressures, including potential legal risks and a rising client demand that exceeds their capabilities.

History shows that political contests over the ideological slant of the court are nothing new.
Economy + Business
Ethics + Religion