President Joe Biden devoted much of his inaugural address to acknowledging the rifts in America and talking about healing and uniting the country. "We must end this uncivil war that pits red against blue, rural vs. urban, conservative vs. liberal," he said. To follow through, Biden might start by making the challenges facing rural America a federal priority and investing in its future, argue three law professors who work with distressed communities.
That requires more than just bringing broadband to regions with little to no internet access. Instead, it's about fixing fundamental problems in the systems that rural regions depend upon, explain Ann Eisenberg of the University of South Carolina, Jessica Shoemaker of the University of Nebraska-Lincoln and Lisa Pruitt of the University of California Davis. They suggest five ways Biden can help rural America thrive.
Also today:
Stacy Morford

General Assignments Editor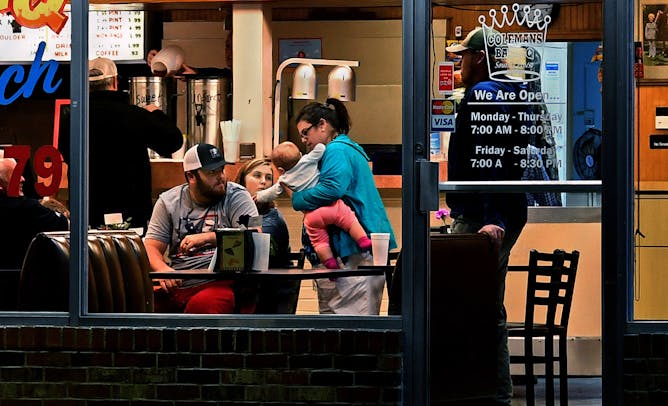 A new federal antipoverty program for both rural and urban areas is part of the solution, but the power of Big Ag, lack of internet and struggling towns need attention, too.
Politics + Society
Joe Biden's presidential campaign and his inauguration mark an important change for the roughly 3 million people in the United States who stutter.

While the debates about Kamala Harris' multiraciality may seem new, they are similar to the commentary other high-profile mixed-race people in the US have received about their racial identities.
Ethics + Religion
St. Matthew is the patron saint of civil servants – making the Washington, D.C., church bearing his name a fitting venue for presidents, both past and present.

From the oath-taking on the Bible during the presidential swearing-in ceremony to the 'awe' and 'restraint' of the early Christian world, the meaning of 'religion' has gone through a long journey.
Arts + Culture
Economy + Business
For decades, presidents routinely replaced large swaths of the government workforce, often requiring them to pay fees to political parties in exchange for their jobs.
Environment + Energy
Health
Science + Technology
Trending on Site
A scholar of religion explains a growing Christian movement that believes Trump was part of God's plan to bring heaven to Earth.

Broadcasters silenced Father Charles Coughlin in 1938, just as Twitter, YouTube and Facebook have shut down pro-Trump incitements to violence in 2021.

Lifestyle medicine targets the root of chronic diseases like obesity, heart disease and diabetes. Experts explain why everyone should embrace these free prescriptions for good health.