It's always fun when new research completely shatters an assumption you didn't even know you had. Dear reader, if you'll humor me for a moment, picture a dinosaur of your choosing and place that dinosaur into the environment it might have lived in. If you are like me, you subconsciously imagined that dinosaur under a bright sun. But it turns out that at least a few species of ancient reptiles had the sensory abilities to live and hunt at night.
Lars Schmitz is on a team of paleontologists who have uncovered the best evidence yet for a nocturnal dinosaur. Shuvuuia deserti, a tiny predatory relative of Tyrannosaurus rex, had eyesight and hearing that likely rivaled those of modern-day owls. In his story, Schmitz describes the innovative techniques his team used to measure the senses of an animal from 60 million years ago and why it makes sense that dinosaurs would have roamed under the stars.
Also today:
Daniel Merino

Assistant Editor: Science, Health, Environment; Co-Host: The Conversation Weekly Podcast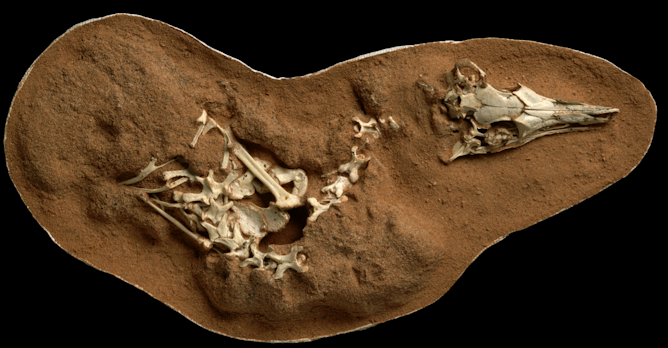 By looking at the eye bones and ear canals of extinct dinosaurs, researchers show that a small ancient predator likely hunted at night and had senses as good as a modern barn owl.
Politics + Society
As American troops leave Afghanistan, a scholar of the country's history and culture reexamines his photos of the nation's people.

Police are sworn to protect the public, but cadets are still trained for battle – not public service – according to a new study examining all 50 US state police academy curricula.
Environment + Energy
The US is shifting to a new set of climate 'normals' – data sets averaged over the past 30 years. But normal is a relative concept in a time of climate change.

The lead author of a new UN report on methane explains the findings and how oil and gas companies could be making money and saving the planet at the same time.

An increasing number of communities are discovering dangerous contamination in their water systems weeks or months after fires.
Ethics + Religion
A quarter of prisoners report a cognitive, intellectual or developmental disability. But the true figure could be even higher.

The Lag BaOmer pilgrimage, in which 45 people died recently, takes place each year to what is believed to be the gravesite of the second-century Talmudic sage Rabbi Shimon Bar Yochai.
Science + Technology
The first space tourist left Earth 20 years ago aboard a Russian rocket. Now, private companies like Jeff Bezos' Blue Origin are offering trips to the stars for those who can pay.

Though research is still ongoing, therapists' practical experience and adults' and kids' self-reflections suggest that fidget toys can be helpful for emotional and cognitive support.
From our International Editions
It's not clear whether the TRIPS agreement is what's getting in the way of vaccine supply, and waiving intellectual property rights may stifle future innovation.

Distrust of the electoral commission runs deep in the opposition, which may well lead to increased tensions ahead of and following the polls.

The style and date given for the painted room never sat right with MA Katritzky, who spent lockdown investigating whether the room was actually created by one of Britain's greatest painters.

---

Today's graphic