The internet has been an indispensable health tool during the pandemic, allowing millions to educate themselves about COVID-19 or make a telehealth appointment to see their doctors while staying safely socially distant.
But not all Americans can afford a computer and the roughly $70 month it costs for internet access. Tamra Burns Loeb and Arleen F. Brown of UCLA and Paris "AJ" Adkins-Jackson of Harvard are researchers who study health disparities. "Signing up for the vaccine has predominantly occurred online," they write. "This means that far fewer older adults from under-resourced racial and ethnic minority communities have been able to make appointments."
Also today:
Lynne Anderson

Senior Health + Medicine Editor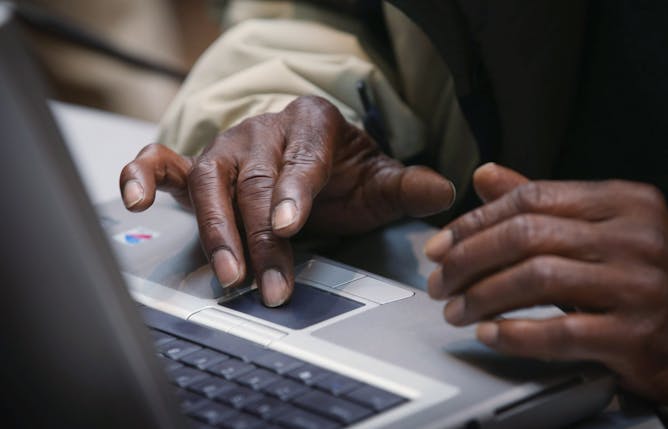 Early numbers show that people from racial and ethnic minorities have lower vaccination rates. Lack of internet access could be a reason.
Economy + Business
Health
Politics + Society
Geographers are documenting slave-built infrastructure, from railroads to ports, in use today. Such work could influence the reparations debate by showing how slavery still props up the US economy.

The 45th president of the United States used a specific technique to tell different versions of the very same story, of a nation under threat and a man working to save it.

Benjamin Franklin spoke and wrote in ways that, if taken up now, could begin to erode the polarization of the current era.
Ethics + Religion
Environment + Energy
Education
Science + Technology
Microbes can alter the minds of mouse mothers and disrupt their natural instinct to nurture their young.

Dogs' barks say a lot about how they're feeling.
Trending on Site
Over the past year, the singer has carefully constructed a visage that has made him nearly unrecognizable.

If you are a sci-fi junkie you've probably wondered what would happen if you were unlucky enough to fall into a black hole. How well you'd fare all depends on the type of black hole.

Keeping windows open while driving at a moderate speed can increase airflow inside the cabin of the car, but which ones should you keep open?