The eviction moratoriums put in place early in the pandemic to prevent a massive homelessness crisis have been expiring in recent weeks. As some lawmakers debate extending them, millions remain at risk of losing their homes if their landlords take them to court.
While U.S. courts usually ensure due process and provide protections to both plaintiff and defendant, eviction courts are different, explains Katy Ramsey Mason, who studies the topic at the University of Memphis. With legal roots in feudal England, these courts focus on swift judgments, leading to lopsided rulings that heavily favor landlords over tenants, she writes.
Also today:
Bryan Keogh

Senior Editor, Economy + Business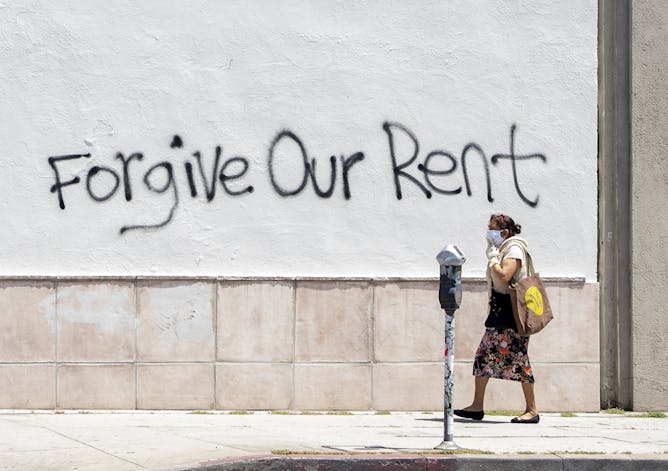 Millions of Americans may be at risk of losing their homes in coming months as eviction moratoriums expire and courts resume a process that heavily favors landlords.
Health + Medicine
Arts + Culture
It will be possible to compare the outcomes of games with and without fans, giving new insights into the relationship between fans, home-field advantage and clutch performances.
Science + Technology
This summer, NASA's Mars Perseverance rover is taking the next giant leap in our search for signs of life beyond Earth.

This insect's unique reproductive biology could lead to new ways to control the species in the environment – and prevent the deadly sleeping sickness it spreads to people.
Economy + Business
Equity-based awards can form a large part of an employee's overall pay. A new report shines a light on how women are being left behind when it comes to stocks and options.

As the government considers antitrust action against big US technology companies, a global business scholar identifies four myths that need busting first.
Environment + Energy
Flaring, or burning, waste gas from energy production has sharply increased over the past decade. It wastes usable fuel, pollutes the air, and helps drive climate change.
Ethics + Religion
For many people, the standard weekend is Saturday and Sunday. That's not true for Muslims in some Islamic nations.

Psalm 137 – best known for its opening line, 'By the Rivers of Babylon' – is a 2,500-year-old Hebrew psalm that deals with the Jewish exile and is remembered each year on Tisha B'av.
Education
Most read on site
The post-pandemic office will be a lot more flexible but still will be necessary to help build relationships among colleagues, according to three scholars.

The lawsuits filed in Portland sparked by the presence of federal law enforcement agents sent there by President Trump are a preview of the legal battles to come in cities across the US.

Despite its progressive image, Minneapolis is one of the most segregated cities in the United States. That is by design not accident, argues an urban planning scholar.