Health officials in the U.S. will soon decide whether to grant emergency use authorizations, or EUAs, for at least two coronavirus vaccines. But just what does this mean? After all, EUAs are not the same thing as a full approval from the FDA. Health law scholar Christopher Robertson of Boston University and professor of medicine Jeremy Greene explain the history, rationale and possible pitfalls of this special mechanism that clears drugs for use in a major health emergency.
Also today: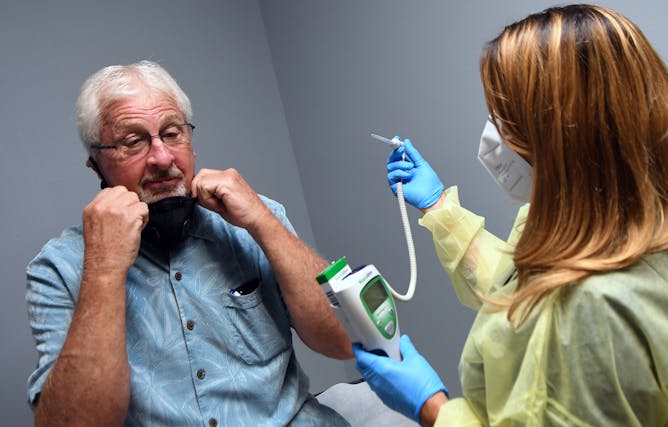 The vaccines that will first be used to prevent the spread of COVID-19 will have gone through a special approval process with the FDA. But just what is this expedited process?
Economy + Business
Workers are increasingly making short videos of themselves on the job and posting them to TikTok, creating a new challenge for employers trying to police their behavior.

Rather than pump money into a broken system, people like Jeff Bezos and Charles Koch could use their money to help fix it – by insulating politics from money.
Ethics + Religion
Environment + Energy
A fast-moving equine flu cratered the US economy in the fall of 1872, showing all too clearly that horses were essential and deserved better treatment.

In the Amazon, beetles and flowering trees have developed a tight bond. Hundreds of beetle species thrive off of and pollinate blossoms, helping to maintain some of the highest biodiversity on Earth.
Arts + Culture
Politics/Election '20
Science + Technology
Some beaches in the world tend to consistently produce huge waves. Places like Nazaré Canyon in Portugal and Mavericks in California are famous for their waves because of the shape of the seafloor.

The side effects of new SARS-CoV-2 vaccines are a result of immune system activation. While uncomfortable, they are both normal and expected. They are a sign that the vaccine is working.
Trending on site
Here's how governments can get more people to follow COVID-19 guidelines.

Schools can consider virtual learning and other ways to reduce the negative impact of suspensions on student achievement.

It's long been known that Black patrons of bars and restaurants tend to get worse service than white customers. What's not been well understood is precisely why.