On Nov. 14, 1960, at the age of 6, Ruby Bridges became the first Black child to attend William Frantz Public School and one of the first African American students to brave racist jeers and threats to desegregate a Deep South school. Her story as someone who broke down racist barriers can be glimpsed in a Kamala Harris meme that has gone viral. It shows a striding Harris casting a silhouettte of a Norman Rockwell painting of that little girl in a fluffy dress and ponytail.
What became of that historic school tells not just Bridges' story of desegregation but also that of a "continued racism as well as efforts to dismantle and privatize public education" in the U.S., write University of Nebraska Omaha education scholar Connie L. Schaffer and her colleagues Martha Graham Viator and Meg White.
Also today:
Emily Schwartz Greco

Philanthropy + Nonprofits | Childhood + Parenting Editor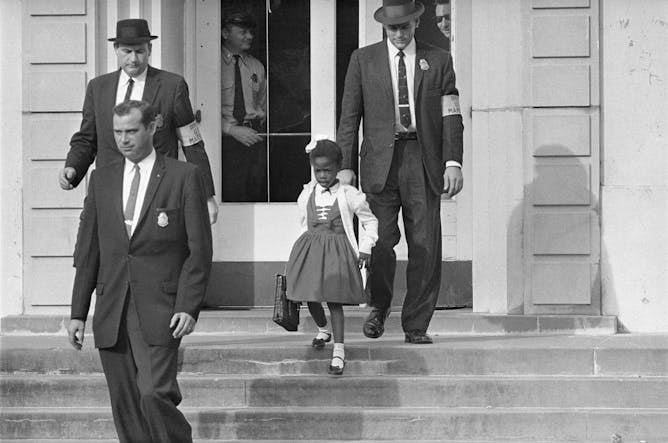 Is the public education that Ruby Bridges fought to integrate a relic of the past?
Science + Technology
Biden will begin his presidency in the midst of a global public health crisis that's already killed over 240,000 people in the US alone. His team is already planning how to get COVID-19 under control.

Computational methods could help identify conspiracy theories as they emerge.
Politics/Election '20
Each side in the bloody Nagorno-Karabakh conflict accuses the other of war crimes. Such allegations attract foreign attention and possibly intervention, but rarely lead to a peaceful solution.

Trump was the first US president from New York City since Teddy Roosevelt, but he was never a hometown hero. Jubilant celebrations erupted across New York after Biden's projected win.
Health
The ACA's third date with the Supreme Court was Nov. 10, and it will be months before a decision. In the meantime, however, Congress and the new president can do things to bolster the law.

Many people object to the added ingredients in vaccines. But pharmacists explain why those fears are unwarranted.
Ethics + Religion
When Trump leaves the White House in January, many American evangelicals will feel that they've lost their protector in chief.

The case Fulton v. Philadelphia is about foster care. But questions over a decades-old Supreme Court ruling may have wider implications.
Environment + Energy
With growing drought, rising seas and heavier storms, how do we protect Venice and other world treasures? The answer: creative, proactive measures that may alter them in important ways.
Economy + Business
From our international editions
The question of the Irish border after Brexit is a more pressing matter for the next president than it has been for his predecessor.

Jerry John Rawlings remains the most polarizing political figure in Ghana since Kwame Nkrumah.

Crisis grips Ethiopia as political divisions spill over into armed conflict and potential civil war looms.