Top headlines
Lead story
When I read that Donald Trump said on Truth Social that he received a "target letter" from the Department of Justice, I figured I was not the only person who thought, "Huh?"
Luckily, University of California, Davis criminal law scholar Gabriel J. Chin was on hand to explain what these official letters mean and why the Justice Department sends these warnings to people ahead of likely criminal charges.
Turns out, target letters can benefit both prosecutors and defendants, giving a signal of justice in an investigation. Chin spells out what they tell us about the ongoing criminal case regarding Trump's alleged involvement in the Capitol attack.
"Advising an individual that they are a target might induce cooperation, and it promotes the appearance of fairness," Chin writes.
[ Science from the scientists themselves. Sign up for our weekly science email newsletter. ]
Amy Lieberman

Politics + Society Editor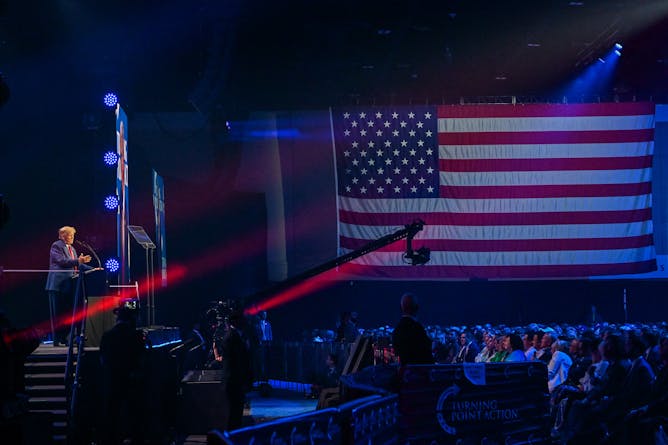 The Justice Department issues target letters to people who are about to be charged with crimes, giving them a warning and a chance to get legal counsel.
Politics + Society
Comic book depictions of superheroines as politicians illustrate how sexism weakens democracy and why comics history is relevant to contemporary politics.

Before there was Jack Smith, there was the House January 6 committee. Its work and findings may provide a hint about what new charges Smith might lodge against former President Donald Trump.
Ethics + Religion
The first Rastafarian communities emerged around 1931 in eastern Jamaica. Today, there are over 700,000 Rastafarian communities located on almost every continent.
Health + Medicine
The new over-the-counter pill is highly effective at preventing pregnancy but must be taken at the same time daily, which can be a limitation for some people.

Diabetes rates across the world have been rising steadily since the early 1990s, when this data was first estimated. That trend is only going up.
Science + Technology
Three Indigenous studies scholars draw from colonial histories and explain why listening for alien life can have ethical ramifications.

Creating bias-free AI systems is easier said than done. A computer scientist explains how controlling bias could lead to fairer AI.
Economy + Business
Arts + Culture
The US national team is the favorite going into the tournament in New Zealand and Australia. But growth in the global game has seen others catch up.

As hip-hop turns 50, an unfortunate reality is that so many of its pioneering artists never live to see much more than 50 years themselves, a professor of hip-hop writes.
Environment + Energy
A webinar hosted by The Conversation brings together experts in law, health, policy and Indigenous affairs to explain some of the most pressing problems related to water in the US.