In recent months, a number of Republican-controlled states have moved to ban critical race theory – which holds that racism is structural and embedded in U.S. institutions – from being taught in classrooms.
Nicholas Ensley Mitchell, a professor of curriculum studies, predicts that such legislation will lead teachers to avoid topics that they fear could get them into trouble. Indeed there is evidence that this might already be happening with reports that some educators are calling it quits before the next school year rather than run the risk of teaching as they see fit and running afoul of the law.
Whatever one's position is on these new laws, they are bound to affect local education in unprecedented ways – creating further uncertainty on the heels of a school year disrupted by the COVID-19 pandemic.
Also today:
Jamaal Abdul-Alim

Education Editor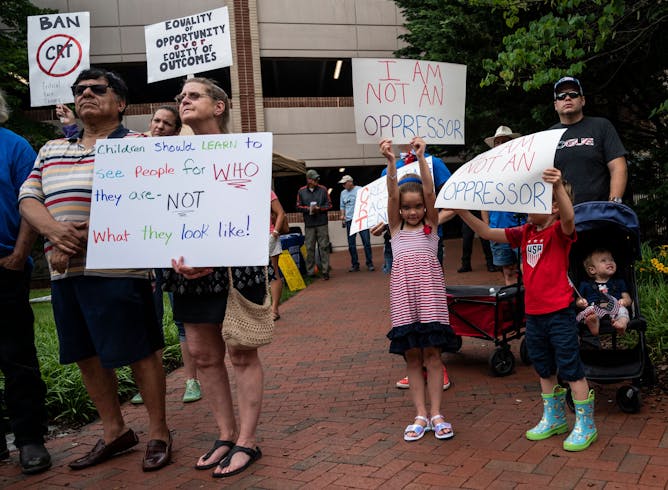 New laws that take aim at critical race theory could pose serious dilemmas for teachers when it comes to describing America's past, a curriculum specialist says.
Politics + Society
President Moïse is dead. Two politicians say they're in charge. Parliament is suspended. A Haitian studies scholar explains Haiti's power vacuum and says elections alone won't restore democracy there.

Immigration judges must base their decisions to grant asylum to immigrant children on whether these children have realistic fears of persecution. But other factors influence those decisions.
Health
COVID-19 vaccination produces a more consistent immune response than a past infection. With the delta variant, the difference in protection may be even greater.

Researchers had suspected that chemical hair relaxers might be behind racial disparities in breast cancer diagnoses. A new study narrows in on lye as a possible cause for that link.
Ethics + Religion
Abortion and contraception were quite common among premodern Christians, who also celebrated women's celibacy as superior to marriage and childbearing.

The doctrine of inerrancy likely took shape during the 19th and 20th centuries in the United States, in response to the rise of liberalism within Christianity.
Environment + Energy
Economy + Business
Science + Technology
From our international editions
Pescatarians might frustrate purist vegetarians, but the issues surrounding fish are quite different to meat.

IMF programmes run the risk of having too many conditions. This may drive countries into financial disaster. And back to the IMF again.

Considering our relationships to stories about the past and looking at learning as a process of encounter can help Canadians to become better treaty partners.

---

Today's graphic