Editor's note
Americans' lives are shifting in significant ways, every day it seems. But our version of the coronavirus crisis still qualifies as a #firstworldproblem. Syrians have been suffering deeply for years, and their situation is about to get much worse, writes Clark University political scientist Ora Szekely.
She uses her fieldwork in Syria and elsewhere in the Middle East to explain why it's so hard to resolve the Syrian conflict, which is almost a decade old. Szekely also offers a glimpse of what may happen next, as the pandemic reaches displaced people and refugee camps.
Also today:
Jeff Inglis

Politics + Society Editor
Top story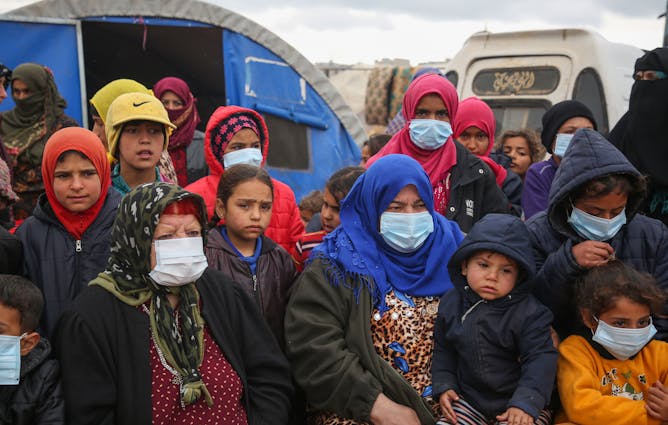 Everyone in Syria is fighting a slightly different war from everyone else, there are outsiders with their own goals – and the coronavirus is about to make everything much worse.
Health
The time at home from the coronavirus crisis could be an opportunity to let our natural sleep rhythms take over.

Different groups in society can suffer from social distancing practices. That includes higher risk of domestic violence, child abuse and mental health problems.
Economy + Business
The COVID-19 pandemic is forcing companies, universities and even the NBA to break contracts. What does the law say about liability in a situation like this, and does the money have to be returned?

Companies can play an important role in keeping their workers both productive and mentally and physically healthy during the pandemic.
Education
Environment + Energy
The US is gradually shifting to lower-carbon energy sources, but the COVID-19 pandemic, an oil price crash and a likely recession are big speed bumps.
Politics + Society
Germans are struggling like the rest of the world with the coronavirus. And while Germans have a strong safety net and medical system, one thing may fall victim to the virus: relations with the US.

Most states have rules that could preserve the integrity of an election while also allowing social distancing.
Arts + Culture
From our international editions
We could use this crisis to rebuild, produce something better and more humane. But we may slide into something worse.

Neither the Second World War nor 9/11 stopped weekly comic book distribution to comic stores. But COVID-19 means production and distribution is now on hold, and the future of comics is up in the air.

An athlete who competed in the 1964 Tokyo Olympics says when the rescheduled Olympics take place, the Games can help rebuild societies in a humanitarian way through the spirit of Olympism.