When you hear of "the Black vote," "the Jewish vote" or "the Latino vote" as a kind of shorthand to describe a voting bloc, it's probably wrong. There's no one Jewish vote, no one Latino vote and definitely no monolithic Black vote in the U.S.
American University scholars David C. Barker and Sam Fulwood III write that pundits often portray Black Americans as "loyal Democrat-supporting foot soldiers who will execute their mission for The Team on Tuesday as long as some preacher provides the right marching orders on Sunday." But in a survey of African Americans in battleground states, they found that young Blacks are unenthusiastic about the Democrats, Biden and voting. And how many of them vote could determine whether Trump or Biden wins.
Also today: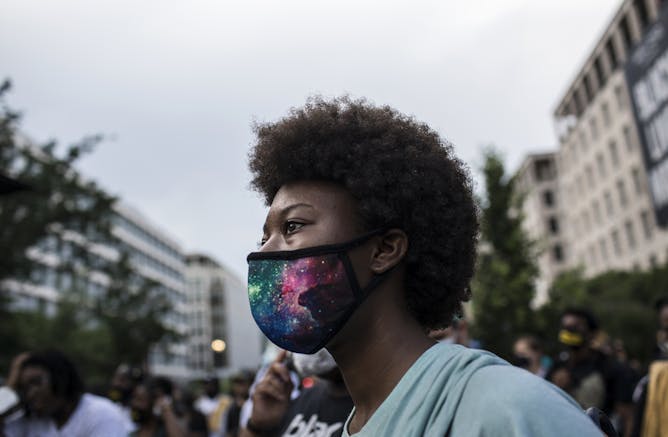 It's a myth that Black voters represent monolithic support for Democrats. A recent survey shows that young Black Americans in swing states have big reservations about Joe Biden, Democrats and voting.
Ethics + Religion
Monks in Thailand are increasingly providing food and other essential items for laypeople – a reversal of traditional roles.

A commission set up by the US Secretary of State says religious freedom and property rights should be elevated above other rights. It has prompted concern from faith-based and secular critics alike.
Video
Politics + Society
No one involved in local government wants to see federal law enforcement agents take over their policing. But a mayor who's also a legal scholar says there's history and precedent for it.

Fears of great wealth and the need for economic equality go back to the country's origins.
Science + Technology
A person dies of opioid overdose once every 13 minutes in the US. A researcher proposes a way using existing technology to remove the opioid target in people to prevent overdoses.

For combustion to occur, oxygen must be present. Ammonium nitrate prills provide a much more concentrated supply of oxygen than the air around us.
Education
Trending on site
With sales tax revenues plummeting because of the pandemic, many cities will face bankruptcy – and that could affect everything from retirees' pensions to whether roads get fixed.

A new study not only shows that the malarial drug chloroquine doesn't block SARS-CoV-2 from infecting lung cells, but also explains why.

Some viruses can hide out in the body and reemerge at later times. Which viruses do this, and can the new coronavirus do this too?