Regardless of whether Trump or Biden wins the election, Americans will witness the oldest president to be sworn into office come January. So last night's vice presidential debate between Mike Pence and Kamala Harris felt like a vital vetting of the nation's possible future leaders.
The candidates seemed determined to hit their talking points, dodging tough questions on succession, the Supreme Court and the peaceful transfer of power. Penn State's Cynthia Young and Amherst College's Austin Sarat react.
Also today: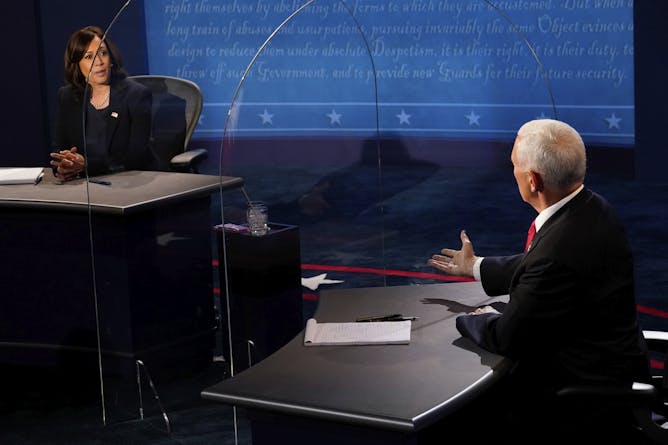 Who belongs to be a heartbeat away from the president?
Science + Technology
The tools to rewrite the genetic code to improve crops and livestock, or to treat genetic diseases, has revolutionized biology. A CRISPR engineer explains why this technology won the Nobel, and its potential.

Most scientific discoveries these days aren't easily ascribed to a single researcher. CRISPR is no different – and ongoing patent fights underscore how messy research can be.
Politics/Election '20
A classics scholar and poet turns to Greek mythology, especially the story of Oedipus the King, to explain the drama -- or perhaps tragedy -- that is taking place in the highest office in the land.

Amy Coney Barrett may be a woman, but Trump's other judicial appointments are 85% white and 76% male – the least diverse group of federal judges since Ronald Reagan.

This year is seeing a high number of absentee and mail-in ballots and voting in the period before Election Day -- but early voting periods are not new to the 2020 election.
Ethics + Religion
The lifelong activist and Dominican sister was arrested over 40 times, often with Sister Carol Gilbert, for peaceful actions protesting nuclear weapons.
Economy + Business
Video
Trending on Site
The Supreme Court will again consider the fate of the Affordable Care Act next month. But Trump's record and a reading of his health executive order make it unlikely that he can offer a meaningful alternative to the ACA.

Experiments in college classrooms show how tiny respiratory droplets known as aerosols can spread, even with good ventilation. The risk isn't the same in every seat.

The 2020 Nobel Prize in physics was awarded to three scientists – an Englishman, an American and a German – for breakthroughs in understanding the most mysterious objects in the universe: black holes.