Many Americans hope that the advent of a vaccine will mean the beginning of the end of a pandemic that has cost almost 200,000 U.S. lives and trillions of dollars. But that won't happen unless people have enough confidence in its safety to take it in sufficient numbers to achieve herd immunity. President Trump's push to have a vaccine by Election Day has raised concerns that one will be released before it's been proven safe and effective, prompting nine drugmakers to publicly pledge to avoid shortcuts in clinical trials.
Will it help?
Efthimios Parasidis, who has extensively studied vaccine policy, believes promises won't be enough. The Ohio State University professor suggests two concrete steps lawmakers could take that would do a lot more to build public confidence in a vaccine.
Also today: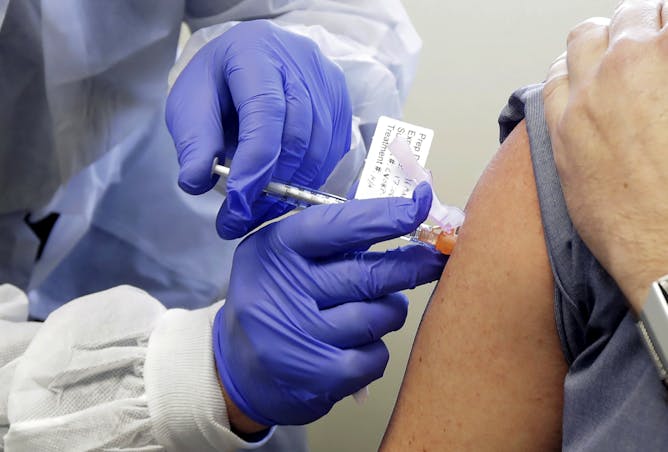 Our best shot at ending the pandemic is by achieving herd immunity through widespread use of a vaccine. But that won't happen unless people believe it's safe.
Arts + Culture
Science + Technology
Politics/Election '20
In February, the US signed an accord with the Taliban to end the Afghanistan War. Now Taliban insurgents are meeting with the Afghan government – but peace remains an uncertain outcome.

Those who say the Supreme Court's last term was a liberal success fail to understand that the types of decisions they see as victories are fleeting triumphs that will not endure.
Ethics + Religion
BLM has been accused of being 'Godless' and operating in a 'demonic realm.' But scholars of religion see a deep spirituality at work in the movement.

Sept. 14 is the the Feast of the Holy Cross celebrated by many Catholics and some Christians. A scholar revisits the history of the cross, how it became a symbol of divine love, but also of violence.
Education
Trending on Site
September is Alzheimer's Awareness Month and therefore a good time to talk about dementia. Alzheimer's is the most common dementia, but there are others to be aware of, a gerontologist explains.

Some 10,000 people are likely to give up their US passport this year, way above average. Are they fleeing COVID-19? Nasty politics? Taxes? None of the above, says an expert on American citizenship.

UV disinfection is a proven means of killing pathogens like the SARS-CoV-2 virus, but it's not risk-free.