President-elect Biden talks a lot about restoring American leadership after four years of "retreat" under his predecessor. On trade in particular, America has turned inward under President Trump, who has torn up trade deals, launched trade wars and generally thumbed his nose at the institutions that govern free trade – ones the U.S. helped build.
But those hoping the U.S. will turn away from Trump's "America first" policies and again lead the world in promoting free trade will likely be disappointed, according to Charles Hankla, a scholar of international political economy at Georgia State University. Even though most Americans say they embrace trade, a vocal minority of populists on both the left and the right will make it very hard for Biden to change course, Hankla explains.
Also today:
Bryan Keogh

Senior Editor, Economy + Business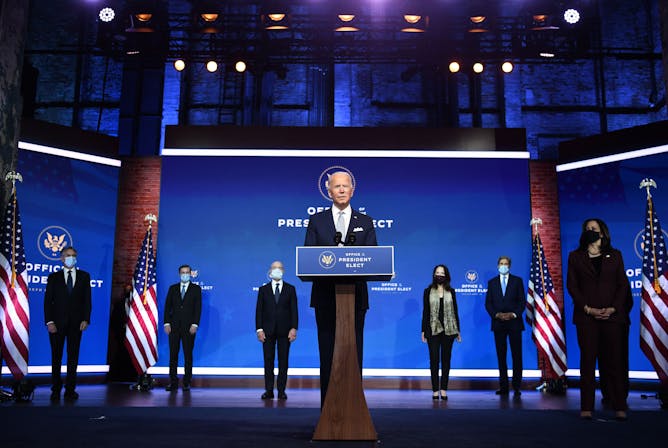 President-elect Biden hopes to restore America's global leadership on issues like trade, but populists in both parties may make his job a lot harder.
Science + Technology
Scientists are not convinced by the current evidence of UFOs. That doesn't mean that they don't exist. But have Americans' belief in UFOs gone from science to a new religion?

Archaeologists used to dig primarily at sites that were easy to find thanks to obvious visual clues. But technology – and listening to local people – plays a much bigger role now.
Health
Calls for help to domestic violence shelters have risen during the pandemic, as risk factors for the escalation of violence have gone up. It may be time to implement new strategies to help.

With new COVID-19 cases topping 200,000 a day, contact tracers are overwhelmed. Here's how infected people can start tracing and notifying contacts themselves.
Ethics + Religion
For much of American history, the only December holiday to be recognized in the White House was Christmas, but menorah lightings are now an annual tradition.

The Justice Department has approved alternatives to lethal injections for federal executions. But no method of capital punishment has been without gruesome stories of what went wrong.
Politics/Election '20
New research on Wisconsin's changing demographics suggests that racial integration and political polarization were a combustible combination in Kenosha, where violence erupted in August.

As social media platforms fight Holocaust denial and anti-Semitism, online archives offer another possible approach: direct links to the historic truth.
Arts + Culture
The word, which roughly translates to considering the needs of society above your own, has become a buzzword in Denmark.
Video
From our international editions
Medicine's linguistic history in English is rich indeed, peppered with borrowings from French. But the Old English renderings retain a certain charm.

Scientists had been uncertain about why killer whales are dying in the northeastern Pacific Ocean. A new study takes an in-depth look and provides the tools to help prevent additional deaths in the future.

Evolution towards flightlessness has been much more common through history than scientists once thought.