People's social lives, for the most part, have moved outside during this pandemic. Compared to being indoors, there is much less risk of catching or spreading the coronavirus at a park or while sitting at a table under the sun. Unfortunately, many of life's necessities – like school, work, errands and buying groceries – simply have to be done indoors. But there are some easy ways to make indoor spaces safer, and some things to look for that can tell you when a room is a risky place to be.
Shelly Miller, a professor of engineering at the University of Colorado, Boulder, explains how much airflow you need to reduce the spread of the virus, how to measure if a room is getting enough fresh air and how to use air filters to make a room safer if you can't open a window.
Also today: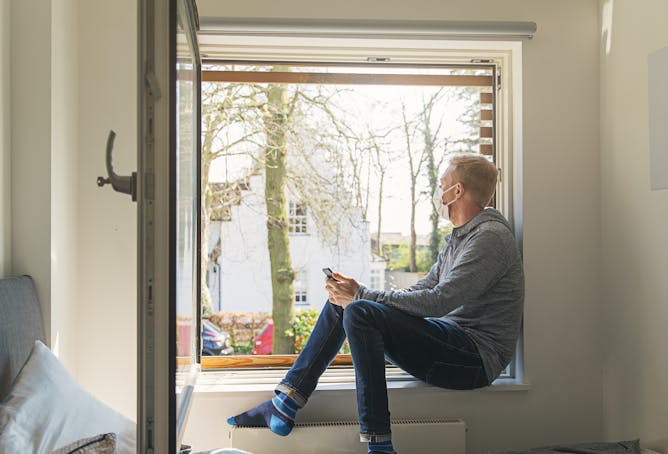 Good ventilation can reduce the risk of catching coronavirus. An environmental engineer explains how to know if enough outside air is getting into a room and what do to if ventilation is bad.
Arts + Culture
Politics + Society
Internal party rules make it harder to attract independents, who make up about one-third of US voters.

Republicans are free again to recruit poll watchers – four decades after 'ballot security' operations helped steer New Jersey's 1981 gubernatorial race toward their candidate.
Ethics + Religion
Science + Technology
Self-regulation by the technology industry has failed to keep people safe online. That's a job for government.

Rather than a vaccine to beef up your immune system, a psychoactive substance could boost your cooperative, pro-social behavior – curtailing the selfish actions that spur on coronavirus's spread.
Trending On Site
Many patients suffering from COVID-19 exhibit neurological symptoms, from loss of smell to delirium to a higher risk of stroke. Down the road, will COVID-19 survivors face a wave of cognitive issues?

Some viruses can hide out in the body and reemerge at later times. Which viruses do this, and can the new coronavirus do this too?

It's a myth that Black voters represent monolithic support for Democrats. A recent survey shows that young Black Americans in swing states have big reservations about Joe Biden, Democrats and voting.