Businesses are eager to get employees back to the office with the end of the pandemic now (hopefully) in sight. But some corporate bosses may pay a price for failing to communicate plans clearly to workers and otherwise bungling the transition from the world of remote work and Zoom calls to open-plan offices and conference room meetings.
That's a key finding of recent research by Kimberly Merriman, David Greenway and Tamara Montag-Smit, management scholars at the University of Massachusetts Lowell. They reviewed over 100 lengthy worker posts on Reddit about how their employers were handling the return to the office. Many workers said they were fed up with the confusing remote work policies, corporate culture "BS" and broken promises that accompanied corporate plans for a post-pandemic office.
Also today:
Bryan Keogh

Senior Editor, Economy + Business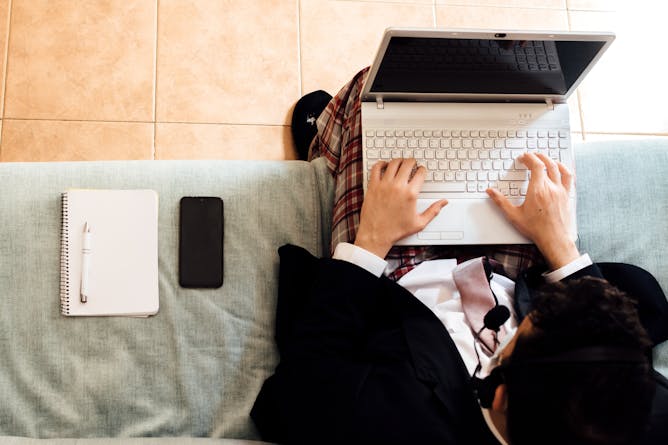 A divide is growing between workers and management over the return to the office and other issues.
Politics + Society
Over the past 48 years, women in the US have married later, attained higher education and joined the workforce in record numbers. Could a conservative Supreme Court turn it all back?

In most wars, each side's aggression is meant to get the other side to back down. But that's not the case with how Israeli and Palestinian leaders have conducted their long-running war.
Ethics + Religion
Environment + Energy
To get a sense of how bad the 2021 hurricane season will be, keep an eye on the African monsoon, ocean temperatures and a possible late-blooming La Niña.
Science + Technology
Pregnant women's experiences can affect their babies' health, even into adulthood. Researchers know societywide stresses can lead to these long-term consequences – and the pandemic likely fits the bill.
Education
For Black girls in Chicago, the act of simply going to prom is often a full-scale production that features family, food and music.
Health
Trending on site
Chances are small that space junk will destroy property or harm a person, and existing space law could deal with such an event. But current law doesn't address the bigger problem of space pollution.

The pandemic's not over yet, but these world leaders have already cemented their place in history for failing to effectively combat the deadly coronavirus. Some of them didn't even really try.

Each state has its own rules for which vaccines kids must have to attend school and the reasons students can opt out.