Overcoming long-standing cultural barriers is the invisible bond that binds women across countries and regions in Africa. Though small steps are being made, research also continues to reveal ways in which women are disproportionately affected by COVID-19. In West Africa for instance, women are the mainstay of fishing. But they are underpaid, undervalued and largely invisible. Ifesinachi Okafor-Yarwood and Sayra van den Berg Bhagwandas set out how COVID-19 has compounded the particular challenges that women face.
Unpaid labour burdens, unequal inheritance rights and outright discrimination also mean that women are less likely to seek leadership positions. Damilola Agbalajobi says that these factors help explain why there are few women in the Nigerian political scene. She offers tips on what can be done about it.
In Kenya, progressive clauses in the 10-year-old constitution are beginning to change the gender equation in the country's courts. There are many more women magistrates, more judges and now for the first time the chief justice is a woman. Martha Gayoye explains why having more women in charge of courts matters.
Moina Spooner

Commissioning Editor: East and Francophone Africa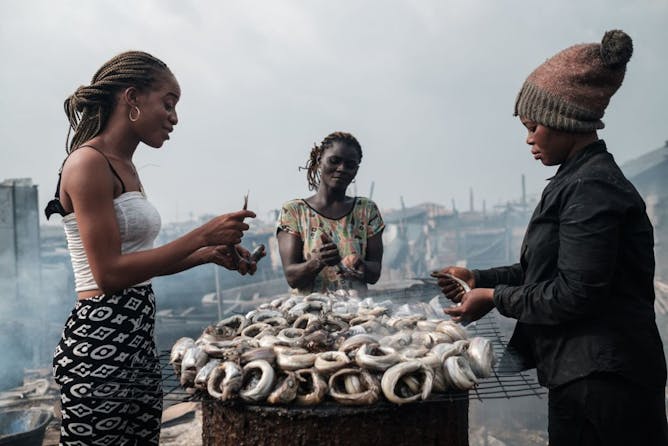 The contributions that women in West Africa's fisheries make to the sector are widely un(der)paid, undervalued and largely invisible.
| | | |
| --- | --- | --- |
| The equitable participation of women in public life is essential to building and sustaining strong, vibrant democracies. | | Justice Martha Koome's ascendance to the role of Chief Justice raises hope and expectations among many for a better world for women and children. |
Arts, Culture + Society
| | | |
| --- | --- | --- |
| A year later, it's clear that the dance promotes a conscious concept of Africanity – sowing feelings of tolerance and contentment that have conquered international audiences. | | A small child buried almost 80,000 years ago in a cave in Kenya shows how ancient humans treated the dead. |
| The rise of the black romantic comedy in South Africa dovetailed perfectly with the advent of streaming services - creating a box office phenomenon. | | It took black folk unimaginable resources of creativity, humanity, humour and generosity to detoxify the N-word for their own collective sanity. |
Politics
| | | |
| --- | --- | --- |
| Digital media shutdowns in Africa will lead to higher economic costs and greater public outrage. | | No matter what tactics are used to muzzle, restrict, limit, or censor information, trustworthy information that serves the public good can still find its way to those who matter most: the citizens. |
| The recent spate of military takeovers, most recently in Chad, highlights a developing trend by armed forces in Africa which overtly subvert constitutional governance. | | Distrust of the electoral commission runs deep in the opposition, which may well lead to increased tensions ahead of and following the polls. |
Business + Economy
| | | |
| --- | --- | --- |
| Government support for farmers, higher rainfall and grain imports have helped sub-Saharan Africa stave off food insecurity, but the region isn't out of the woods yet. | | Since 1999, extreme poverty has declined while rates of young people in education and employment have risen. Without investment though, the impact of the pandemic could see this progress imperilled, |
Environment + Energy
| | | |
| --- | --- | --- |
| A holistic view of climate change risk considers climate hazards, exposure, vulnerability and the responses to these. It also takes into account how multiple risks interact. | | Combining evidence from archaeology, geochronology and paleoenvironmental science, researchers identified how ancient humans by Lake Malawi were the first to substantially modify their environment. |
Education
| | | |
| --- | --- | --- |
| Ultimately, these studies will help us to make sense of how the pandemic is reshaping higher education. | | The term "citizen science" is intended to widen the network of people whose contribution to science is acknowledged. But the word "citizen" can be problematic. |
Health + Medicine
| | | |
| --- | --- | --- |
| Recent uncertainty over blood clots and vaccine expiration dates have taken a toll on public confidence. | | An effective oxygen system requires prompt recognition of who needs oxygen, a reliable oxygen supply and safe delivery to those who need it. |
Featured events
Would you like to republish any of these articles?
It's free to republish, here are the guidelines. Contact us on africa-republish@theconversation.com in case you need assistance.