As cities and states drop pandemic restrictions, Americans are filling stadiums and embarking on long-postponed vacations. But that welcome freedom comes at a cost: Traffic is rebounding to pre-COVID levels across the nation.
University of Maryland Baltimore County urban policy scholar John Rennie Short sees the coming months as a key inflection point. In his view, curbing gridlock will require a financial rescue for public transit and action to lock in people-centered street measures that cities tested out during the pandemic.
Also today:
And for Pride Month we've put together a series of email newsletters on transgender young people. The four emails, delivered over about a week, recap a series of articles written by leading academics exploring the history, medical care and conflicts, such as youth sports, caused by the rising visibility of transgender teens in society. You can sign up for the newsletters here or click the button below.
Jennifer Weeks

Senior Environment + Energy Editor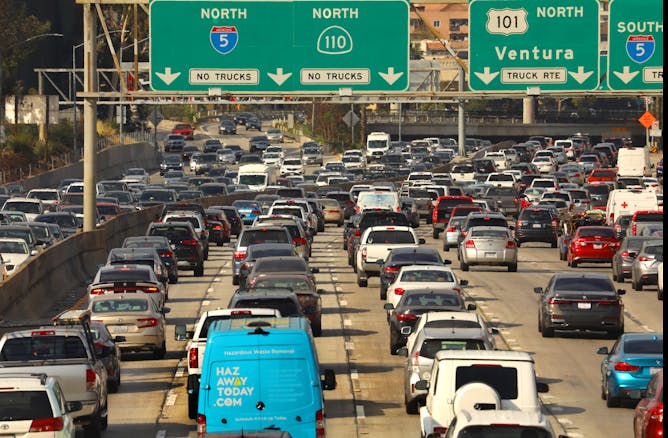 The pandemic offered a tantalizing look at city life with fewer cars in the picture. But with traffic rebounding, there's limited time to lock in policies that make streets more people-friendly.
Science + Technology
The research community is taking a closer look at the lab-leak hypothesis for the origin of COVID-19, prompting discussion about the risks and benefits of engineering viruses.

Astronomers know a lot about what's in outer space – and think it's possible it never ends.
Health
Environment + Energy
Politics + Society
Immigration has historically offset America's low fertility rate, but the recent dramatic drop in immigration threatens that trend.

The daily deluge of information produced by the news media can drown consumers in confusion and anxiety, but there are steps you can take to filter out the noise and remain enlightened.
Arts + Culture
Ethics + Religion
Mandaeans are followers of ancient Gnostic religion, whose traditional homeland was the region of Iraq and Iran. Today, this small minority lives in many parts of the world, including the US.
Education
Trending on Site
Adults in Germany, South Korea and Mexico reported improvements in health, well-being and memory.

According to a veterinarian, the behavior some people call 'kneading the dough' or 'making biscuits' is a clue your cat feels comfortable around you.

Here's how reflective pavement works and what cities need to think about.

---

Today's graphic