Top headlines
Lead story
Americans have seen disaster after disaster over the past few weeks, from the Maui wildfires' near total destruction of Lahaina, Hawaii, to the flash flooding underway from the first tropical storm to hit Southern California since 1939. That's on top of the extreme summer heat across the South and fires in Canada that have forced entire towns to evacuate and sent hazardous smoke pouring into the U.S.
When climate-related disasters get overwhelming, policymakers start looking closer at geoengineering, hoping for a fast way to slow global warming, whether it's by blocking the Sun's rays or sucking carbon dioxide out of the atmosphere. Geoscientist David Kitchen of the University of Richmond explains the geoengineering methods that are being discussed – including some receiving billions of dollars from the U.S. government – and why tinkering with Earth's systems without better understanding the potential consequences is a costly gamble.
[ Understand what's going on in Washington and around the world. Get our Politics Weekly newsletter. ]
Stacy Morford

Environment + Climate Editor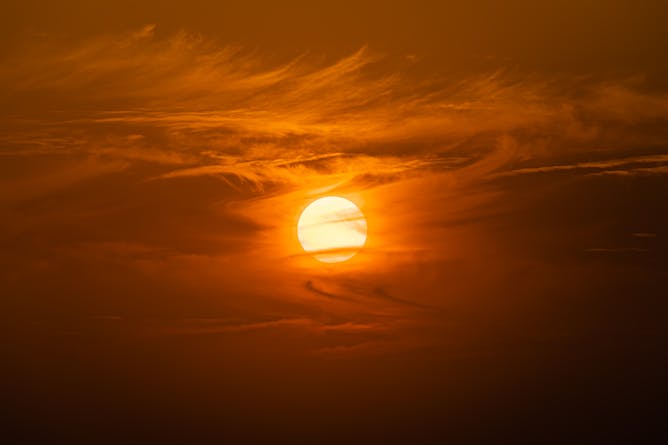 Some geoengineering techniques are better understood than others. The US is investing in capturing carbon dioxide from the air, but ideas to block the Sun's rays are raising big concerns.
Environment + Energy
Animal shelters and other organizations that support pets and their owners after disasters will still need help months after the media has moved on.

Forecasters warned of 'potentially historic rainfall' and 'dangerous to locally catastrophic flooding.' A hurricane scientist explains what El Niño, a heat dome and mountains have to do with the risk.
Politics + Society
What will happen in Israel after more than half a year of pro-democracy demonstrations against the conservative government's judicial overhaul?

Long treated as a sign of anxiety or a delaying tactic, 'filled pauses' are a linguistic trick to signal that what you are about to say might be complicated.
International
BRICS nations – Brazil, Russia, India, China and South Africa – compose 41% of the world population and almost a third of global GDP.

The devastating wildfire that destroyed the historic Maui town of Lahaina was still making headlines when Yellowknife issued an evacuation order.
Ethics + Religion
A scholar of Roman Catholicism explains why Pope Francis' visit to Mongolia, home to fewer than 1,500 Catholics, is significant.

Mesopotamia's prisons were built for detaining people, not punishing them. But they shaped powerful ideas about justice and reform that aren't so different from today's.
Science + Technology
Social media companies' drive to keep you on their platforms clashes with how people evolved to learn from each other. One result is more conflict and misinformation.

Astronomer Caroline Herschel's work discovering and cataloging astronomical objects in the 18th century is still used in the field today, but she didn't always get her due credit.

The phrase 'research data management' might make your eyes glaze over, but it's actually this behind-the-scenes work that allows for large-scale scientific discoveries and collaborations.
Health + Medicine