Demonstrators danced to Public Enemy's "Fight the Power" and marchers chanted Ludacris' "Move b—-, get out the way" to officers during recent protests. That hip-hop should emerge as the soundtrack to the current unrest is no surprise – rappers have been drawing our attention to police brutality for decades.
But long before N.W.A. noted that officers "have the authority to kill a minority," Marvin Gaye was warning of "trigger happy policing." And long before both, Black musicians of different genres were singing of injustice. As Tyina Steptoe of University of Arizona writes, the rich history of protest in Black American music stretches back to the beginning of the blues.
Also today:
Matt Williams

General Assignments Editor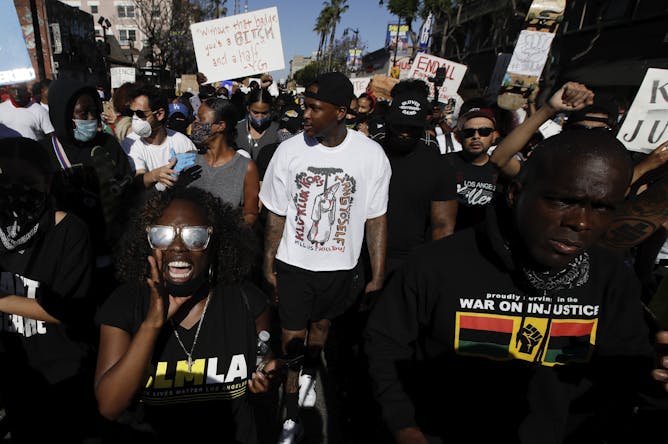 Rap songs from Public Enemy and Ludacris have been heard at marches over the killing of George Floyd. But the history of Black American music as a form of protest dates back to the 19th century.
Health
With COVID-19 cases rising in more than half of the states, the next two weeks are critical for stopping a spike in cases. An epidemiologist reminds us to get back to the basics now.

Yellow fever, malaria and Ebola all spilled over from animals to humans at the edges of tropical forests. The new coronavirus is the latest zoonosis.

In the time of the coronavirus, learning how to adapt to adversity belongs in your toolkit.
Arts + Culture
First trains, then cars and, now, COVID-19 have all spurred New York to reimagine how its scarce space should be used – and what residents need to survive.
Science + Technology
Whether in situations relating to scientific consensus, economic history or current political events, denialism has its roots in what psychologists call 'motivated reasoning.'

Strategies to cure various types of blindness are looking more plausible after a series of recent breakthroughs using gene editing and gene therapy.
Environment + Energy
In South Asia, days with both extreme heat and extreme pollution are expected to increase 175% by 2050. Separately, the health effects are bad; together they will likely be worse.
Politics + Society
Ethics + Religion
Economy + Business
Although there will be some economic harm, it may be time to retreat from free trade with China and focus on our national security concerns.

Two economists argue that people who believe the economy will turn around quickly have more incentive to quarantine.
Most read on site
Sexual abuse has unique effects on people who are members of the same minority group, research suggests. An expert who has studied the issue in detail explains the added issue of cultural betrayal.

Taking a trip this summer? You can do a lot to prevent coronavirus exposure, but you cannot take away all risk. It is important to practice caution.

Many Americans are surprised to learn that Electoral College members do not necessarily have to pick the candidate their state's voters favored. Or do they?