This Thursday, a rocket is set to take off from the European spaceport in French Guinea. Aboard it is a spacecraft called the Jupiter Icy Moons Explorer, or JUICE, which, if all goes according to plan, will touch ground on Jupiter's moons in eight years.
The largest planet in the solar system, Jupiter has dozens of moons. Three of them – Europa, Callisto and Ganymede – are covered in water. As Mike Sori, a planetary scientist at Purdue University, explains, the outer surfaces of these moons are frozen solid, but scientists are pretty sure that heat from the interior of these moons maintains vast subsurface oceans.
Where there is water, there may be the possibility of life. But with the limited data available to planetary scientists today, it has been difficult to learn much about these three fascinating moons. JUICE, as well as a second mission led by NASA called Europa Clipper that is scheduled to launch in 2024, hope to shed light on these watery worlds.
Also today: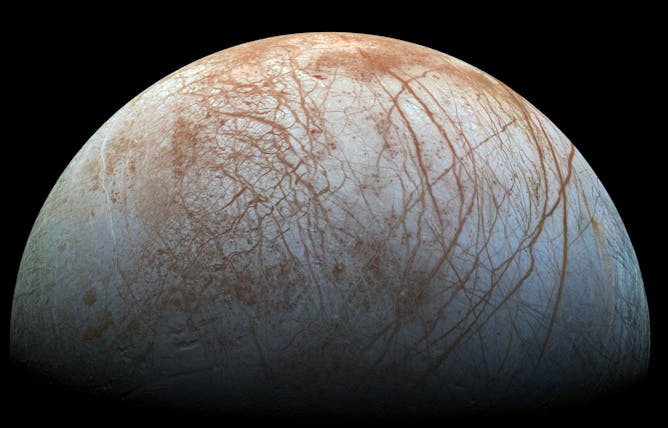 The Jupiter Icy Moons Explorer and Europa Clipper missions will arrive at Jupiter in the 2030s and provide researchers with unprecedented access to the icy moons orbiting the gas giant.
Health + Medicine
Research has examined how ultraprocessed foods can contribute to diabetes, cardiovascular disease, cancer and mood disorders. A healthier diet is one way to use food as medicine.

On the basis of government appointment technicalities and religious freedom, Americans may lose free coverage for cancer and blood pressure screenings, HIV prevention medication and other essential services.
Education
Politics + Society
When people cut personal, interracial or interreligious ties because of political differences, the societal impact can be the same as forced segregation.

In the wake of the COVID-19 pandemic and the George Floyd murder, in 2020, Black social workers are finding they are alone in coping with their trauma.
Arts + Culture
Economy + Business
Science + Technology