President Joe Biden pointed a finger at the roughly 25% of vaccine-eligible people in the U.S. who haven't had coronavirus shots as he rolled out a broad vaccine mandate aimed at bringing the pandemic under control. "We cannot allow these actions to stand in the way of the large majority of Americans who have done their part and want to get back to life as normal," the president said.

But a growing body of research shows that such direct "high threat" messaging can backfire, says S. Shyam Sundar, a media scholar from Penn State University.
These messages can have the unintended effect of causing psychological "reactance," in which people resist complying with health guidance on issues as seemingly benign as flossing or keeping kids off drugs, he says.

It's a psychological phenomenon that can be seen around the world and is exemplified by widespread protests and opposition to mandates. "When individuals sense a threat to their freedom of action, they become motivated to restore that freedom, often by attempting to do the very thing that is prohibited or by refusing to adhere to the recommended behavior," Sundar writes.
Also today:
Amanda Mascarelli

Health and Medicine Editor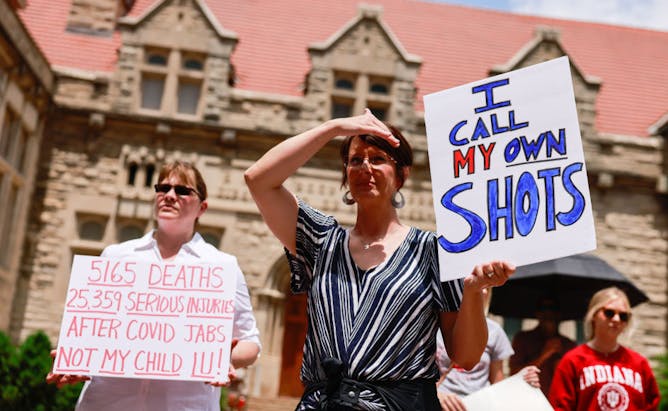 Subtly shifting the crafting and delivery of public health messaging on COVID-19 vaccines could go a long way toward persuading many of the unvaccinated to get the shot.
Politics + Society
The state's Democratic governor held off an attempt to oust him by some margin. His victory provides a pathway for the national party, and a reminder of the mobilizing power of the state.

North Korea has tended to ratchet up tensions when the U.S. is seen to be weak and when it feels it can yield greater concessions, a scholar explains.

For much of the country's history, the Republican Party was the party of Lincoln and racial equality, and the Democratic Party backed Jim Crow laws and white supremacy. The two parties switched.
Health
New research points to a biological way that racism can lead to health disparities.

Menstruation cups are increasingly being used as an environmentally friendly alternative to tampons and sanitary pads.
Science + Technology
The largest orbital telescope ever made will allow astronomers to study the atmospheres of alien planets, learn about how stars form in the Milky Way and peer into the farthest reaches of the universe.
Education
As schools and colleges confront the challenges of COVID-19, cybercriminals exploit weaknesses in the computer networks and online systems.

Effective science teachers use everyday natural events to get students to explore their world. Here's how they do it, according to an expert who prepares elementary school science teachers.
Economy + Business
Ethics + Religion
Race and religion have intertwined since the earliest days of the US. Critical race theory can explore how white supremacy has operated through religious establishments.

Plenty of groups are offering religious exemptions to COVID-19 vaccine mandates, but their legal basis isn't as rock-solid as that might suggest.
Trending on site
An exercise physiologist explains how it's a problem of communication between your brain and your body.

It has been six months since the Johnson & Johnson vaccine received emergency use authorization. What does six months of data show about its efficacy, side effects and protection from variants?

A decade ago, solar power was a tiny sliver of the US energy supply. Today it's expanding rapidly – and the Biden administration wants to make it much, much bigger.

---

Today's graphic

From the story, Pew's new global survey of climate change attitudes finds promising trends but deep divides