The current Supreme Court session isn't yet over, but it's already proved to be a pretty fruitful one for the religious right. Recent decisions struck down a state's ability to restrict faith gatherings during a health emergency, whether in private homes or houses of worship. And a ruling last year expanded an exemption allowing religious entities to ignore anti-bias laws.
The trend didn't just begin with former President Trump's three appointments to the court. The backstory of how the highest court in the land became dominated by conservatives – so that it is now redefining religious liberty – goes back two decades, explains legal scholar Steven Green. It has put religious claimants on a huge winning streak that may continue with a looming decision that could open the door to more anti-gay discrimination, he writes.
Also today:
Matt Williams

Religion & Ethics Editor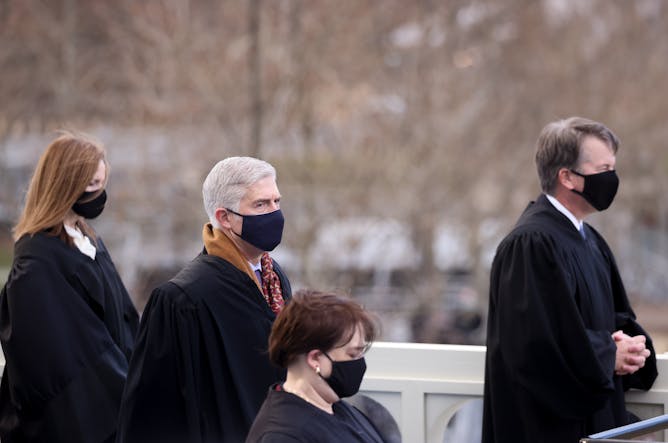 Conservative justices are redefining religious freedom to mean the protection of individuals or groups to practice their faith as they see fit, argues a constitutional law expert.
Ethics + Religion
Science + Technology
Politics + Society
Education
The more that educators of color feel the need to tiptoe around issue of racism in schools, the less likely they seem to stay in the job, new research shows.
Health
Nursing homes have struggled through COVID-19 deaths and lockdowns. Giving nurses more quality time with patients can help them win back trust.

Kids want to play sports again, and who can blame them? An exercise scientist and physiologist explains why adhering to safety protocols is imperative.

New research shows both adults and kids are eating more nutritious food. But minorities and low-income populations still lag behind the rest.
Arts + Culture
During economic downturns, local governments tend to cut spending on libraries, even as the need for their services grows.
From our International Editions
Brexit is only the latest episode of cynicism and scaremongering at the top of unionism

Fela's nomination and possible induction into the Rock and Roll Hall of Fame will come at a cost.

When we see the high prices some are paying for NFT art, we must assume more performances, and potentially, acts of protest, could circulate as NFTs.

---

Today's graphic