When I saw a tweet about history students creating a playlist for a course called "Rap, Reagan and the 1980s," I was immediately intrigued. After all, I not only grew up during the era of "Reaganomics" but also used to spin records as a hip-hop DJ from the mid-1980s to early 1990s – considered the "golden age" of hip-hop.
I was a huge fan of politically conscious rap artists, such as Chuck D, KRS-One and Ice T, to name a few. The course, taught by Amherst College history professor Stefan Bradley, reminded me of how many rappers used to take Reagan to task for what happened under his watch. What better way, I thought, to teach today's college students about the 40th president, who was known as "The Great Communicator," than through the lyrics of some great communicators in their own right – those early rappers from hip-hop's golden age?
The course also gave me another idea: Why not start a series to feature college courses that take an unusual approach to education? Thus began "Unusual Courses," a new occasional series at The Conversation U.S. that makes its debut today. Bradley was the spark for this series, so it's fitting that his course be featured first. But it won't be the last. Be sure to keep an eye out for more stories about some of the most fascinating courses currently being taught in America's colleges and universities.
Also today:
Jamaal Abdul-Alim

Education Editor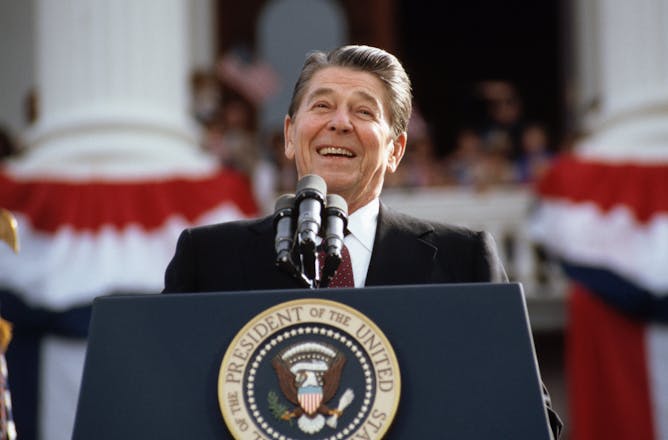 Ronald Reagan may have been known as 'The Great Communicator,' but rap artists don't view his legacy through such rose-colored glasses. A professor of Black studies and history takes a closer look.
Science + Technology
It's tempting to focus on the minority of Americans who hold negative views about scientists. But blaming others for their lack of trust won't build the relationships that can boost trust.

Despite technological advancements, many challenges remain in getting a drug from lab to pharmacy shelf. Reframing what is a 'medicine' could expand treatment options for researchers and patients.
Politics + Society
Supporters and volunteers love them. But it's difficult for political scientists to determine whether they even influence the outcome of elections, since no two campaigns or election cycles are alike.

Americans' political affiliations and views on key issues vary a lot by age. When fewer young people vote, winning candidates and policies may not reflect their views.

Is it unfair to make money from works that borrow from copyrighted work?
Economy + Business
Environment + Energy
Health + Medicine
Education
From our sponsor
We are experimenting with underwriting messages from select like-minded organizations:

FIELD STUDIO offers online classes for academics who would like to learn to write more vividly within their academic writing: books, articles, and essays. In the 5-week class "Creatively," ($795) starting this January, you will learn how to more richly write scenes from your fieldwork with a fiction and creative-nonfiction writer, and consider sentence structure and image with a poet. You'll also consider how to enact theory within lyrical and narrative writing. Ultimately, you will bring these techniques into your own academic writing to both move your readers and reach a broader audience.