Wildfires have broken out across the Western U.S. this week, many of them triggered by lightning strikes in heat-dried vegetation, and tens of thousands of people have been forced to evacuate. Living in the smoke downwind from one can be eerie. The sky casts a yellow-orange glow on everything, and when the wind blows, flecks of ash glitter in the air like dirty snow.
Watching the haze from wildfires raging a few miles from where I live in California, I wondered: What's actually in that smoke and ash, and how hazardous is it? I tracked down Luke Montrose, an environmental toxicologist at Boise State University, to explain the hazards of wildfire smoke, what it can do to your lungs and how to protect your health.
Also today: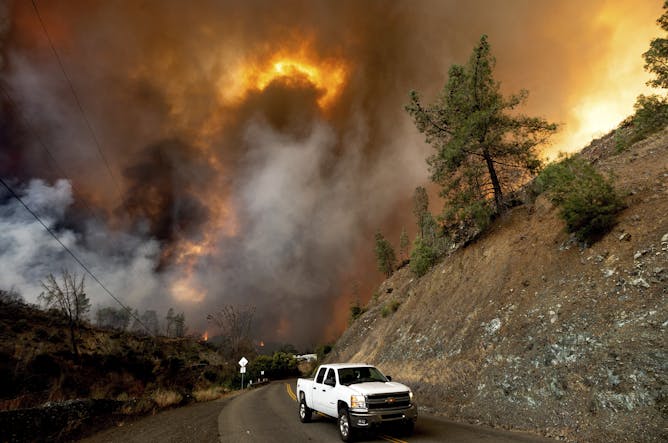 Wildfires blanketing several Western cities are creating hazardous health conditions. Don't count on cloth masks to protect your lungs.
Economy + Business
A nonprofit law expert explains the federal case against the former Trump adviser.

Millennials and Gen Z overwhelmingly support the movement, and consumer brands are well aware of their growing spending power.
Science + Technology
Combating sexism and other forms of harassment in online videogames comes down to community standards.

In the blood of COVID-19 survivors are antibodies that can defeat SARS-CoV-2. Researchers are testing whether these antibodies can be collected and injected into others to save them from the virus.
Education
Ethics + Religion
Environment + Energy
Arts + Culture
From our international editions
The Roman Stoic Seneca is the author of many letters and dialogues that can help us overcome adversity.

Is magic all about spells and hocus pocus, or is it simply another way of looking at how the universe works?

We have become very China-centric in our strategic thinking — and this could be to our detriment. We need to pay more attention to Beijing's deepening defence ties with Russia.