The Supreme Court closed out its session yesterday with rulings on two of this term's most highly anticipated and heavily politicized cases.
In Brnovich v. Democratic National Committee, the justices upheld two Arizona laws that restrict where, when and how people can cast ballots. Narrowly, the decision – made 6-3 down partisan lines – will mostly affect minority voters in Arizona. But it sets a legal precedent with national consequences, write the legal analysts Cornell William Clayton and Michael Ritter: The court's ruling further erodes the federal Voting Rights Act, making lawsuits alleging racial discrimination in other states' voting restrictions less likely to succeed.
In another 6-3 ruling yesterday, the Supreme Court tossed out a California law requiring nonprofits to report their major donors to state officials. Law professor Dana Brakman Reiser explains that the decision changes how some states oversee charities.
We also looked at how the justices dealt with religion in several pivotal cases decided earlier in the term.
Also today:
Catesby Holmes

International Editor | Politics Editor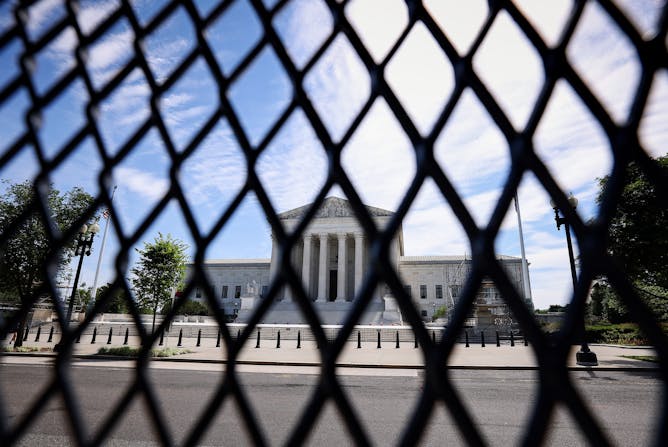 The court upheld two Arizona laws that limit when, where and how people can vote.The ruling further guts the Voting Rights Act at a time when many US states are passing more restrictive voting rules.
Economy + Business
Ethics + Religion
Religion was a common theme in some of the cases to come before the nine justices in the recently concluded Supreme Court term. Three experts help explain what is at stake.

Amid controversy over US bishops' plans to deny Communion to pro-abortion rights Catholics, a scholar of sacramental theology explains the importance of the ritual to members of the church.
Environment + Energy
Roundup may be taking a beating in the US, where three juries have concluded that it gave plaintiffs cancer, but it's still widely used around the globe.
Science + Technology
Arts + Culture
While past studies have placed the proportion of child-free American adults at somewhere between 2% and 9%, a new study found that in Michigan, over 1 in 4 adults don't want kids.
Health
Podcast
Plus, what's happening in Chad, three months after rebels killed the president, Idriss Déby.
From our international editions
The CCP has little to celebrate in terms of what it has done for China. Its chief achievement has been staying in power for as long as it has.

South Africa has many problems. But, as Jacob Zuma has found out, the strength of its rule of law and the independence of its judiciary should not be underestimated.

If the asteroid caused the very sudden end of the dinosaurs, a new study shows that their decline had begun 10 million years earlier.

---

Today's graphic