Congress never gets anything done. Partisanship causes legislative gridlock. Things are at a standstill in Washington.
It's all a myth.
"Laws and policy are being made in the nation's capital," writes Jeb Barnes, a political scientist at USC Dornsife. The number of bills passed demonstrates that fact – not to mention the speedy progress of President Biden's $1.9 trillion COVID-19 relief plan.
While legislative stalemates do exist, the real risk isn't that they lead to policy paralysis but that they shift power to bureaucrats and judges who are not accountable to the public, he says.
Also today:
A note about viewing our articles on Facebook. Facebook yesterday started to block Australians from sharing and accessing news content, the result of an ongoing dispute over proposed legislation in Australia to have tech companies pay news media outlets for journalism linked to from social media and search engines. The blocked content includes articles produced by The Conversation Australia. The result in the U.S. is that you will not be able to share articles from The Conversation U.S. on Facebook either, as The Conversation was founded in Australia and all our national editions run off a common web site. We are seeking ways to address this situation and urge you to continue reading our work on our website and sharing through email or other social media in the meantime.
Naomi Schalit

Senior Editor, Politics + Society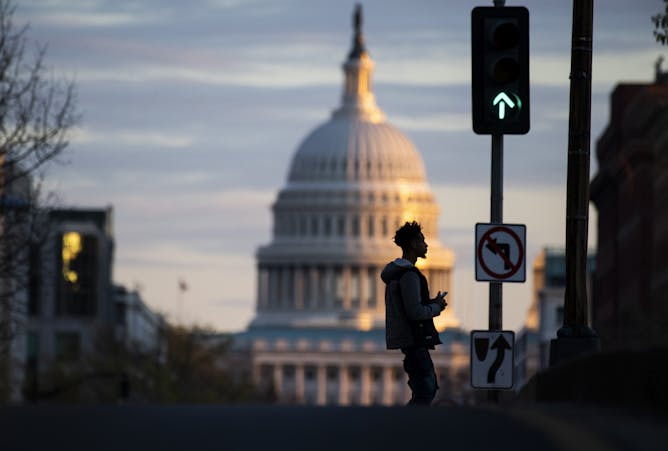 The idea that Washington, DC, is paralyzed by gridlock rests on half-truths about the legislative process and a basic misunderstanding of how contemporary policymaking works.
Arts + Culture
Economy + Business
Few middle-class Americans undergoing Chapter 13 bankruptcy blame the government. They portray themselves as hardworking victims and resent others for taking more than their fair share.

A survey of the impact of the first few rounds of coronavirus aid shows that most of those who lost jobs or wages due to the pandemic were facing severe economic hardship.
Politics + Society
Americans who believe aliens have visited Earth are more likely than disbelievers to say that Joe Biden is not the legitimate winner of the 2020 presidential election.

Elections are getting less safe in democracies and nondemocracies alike. Last year was the bloodiest year for elections in decades, with 54% of all national votes marred by some kind of violence.
Health
Education
Members of the nation's four Black sororities, including Vice President Kamala Harris, commit to lifelong acts of service for their communities.
Science + Technology
Podcast
Trending on site
Heat waves, droughts and deep freezes can all strain the electric grid, leading utilities to impose rolling blackouts. Climate change is likely to make these events more common.

The world's most advanced economies will incur half the total costs associated with a failure to vaccinate poorer nations, which could exceed $4 trillion if only half their citizens are inoculated.

NASA's Mars 2020 mission arrives at the red planet on Feb. 18. On the rocket is the Perseverance Rover. The rover's goal is to collect rock and soil samples to be brought back to Earth in the future.