When you call a company and hear the line "This call is being recorded for training and quality control," you might assume it's being done to ensure their employees are doing their job.
But the company could be listening to you, too – and not just what you say, but how you sound. With this information, they could try to surmise your emotions, learn about your personality and perhaps even your physical characteristics.
Communication scholar Joseph Turow has spent the past few years poring through patents, trade industry articles and surveillance laws. He explains how the voice data being gathered by call centers, smart speakers and intelligent car displays is set to upend advertising and marketing. And should governments fail to act, he says, these shifts portend a new level of privacy invasion.
Also today:
Nick Lehr

Arts + Culture Editor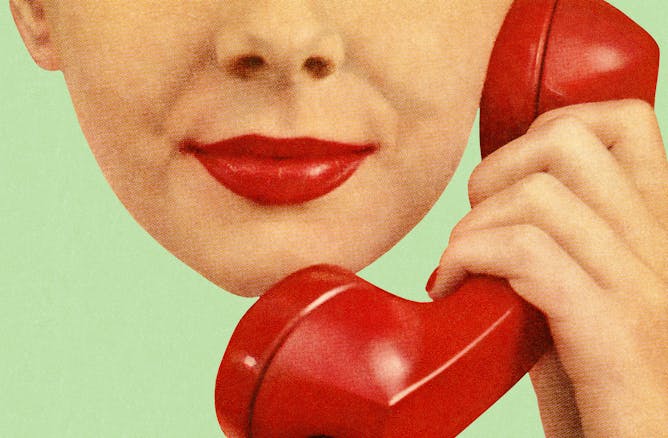 Marketers will soon be able to use AI-assisted vocal analysis to gain insights into shoppers' inclinations – without people knowing what they're revealing or how that information is being interpreted.
Economy + Business
Environment + Energy
Politics + Society
Women's sexual identities and behaviors are changing in ways men's are not.

The headlines were inescapable: States faced a financial disaster of epic proportions because of COVID-19. The predictions were wrong.
Health
Science + Technology
The first space tourist left Earth 20 years ago aboard a Russian rocket. Now, private companies are on the cusp of offering trips off Earth for those who can pay.

A mechanical engineer brings her personal experiences to address human-centered problems and encourage 'compassionate design.'
Education
Ethics + Religion
The biblical story of the Israelites' exodus from Egypt is also a historical tale of reparations after enslavement.

Excommunicating a church member, like 'canceling' someone on social media, serves to cleanse the body politic of behavior deemed damaging, suggests a scholar of political theology.
Trending on site
That doesn't mean sea level rise has stopped – it hasn't. When that lunar cycle starts upward again, it will mean double trouble for places like Miami.

The US Census Bureau has announced which states will gain and lose representation in Congress as a result of the 2020 census. Here's how it makes the calculations.

The courts have given the government the authority to hack into private computers unannounced. The action addresses a clear threat, but it also sets an unsettling precedent.

---

Today's graphic