If someone told you that the metaverse is all about money, you would be forgiven for assuming they meant that it is a grand moneymaking scheme by Big Tech. But they might be offering you a more knowing insight: Without blockchain, the technology underlying digital money like bitcoin, the metaverse couldn't exist.
In the physical world, it would be ridiculous to require a separate wallet, ID, clothes and other possessions for each town you spent time in. But without blockchain, that's what you'd need to visit separate virtual environments. The metaverse will be a single network linking these virtual worlds – an immersive VR internet. Blockchain is what will allow your avatar, including the clothes it wears, the wallet it carries and the magic sword it wields, to belong to you, not some company hosting a virtual world. And it's what will allow you and your avatar to hop between worlds as easily as clicking a link.
Michigan State media scholars Rabindra Ratan and Dar Meshi explain how blockchain works, how it will be the foundation of the metaverse and how it will enable a new economy.
Also today:
Eric Smalley

Science + Technology Editor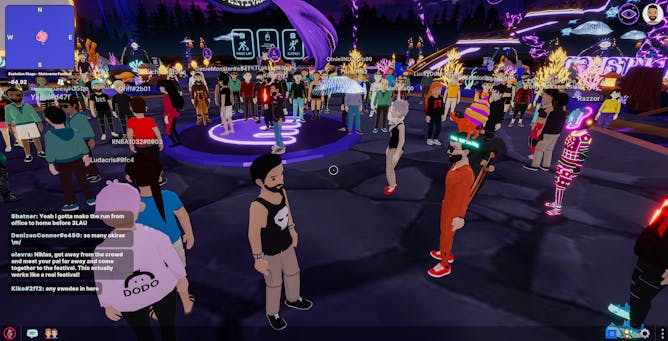 For the metaverse to work, people need to own their virtual bodies and possessions and be able to spend money. The same cryptographic technology behind bitcoin will make that possible.
Politics + Society
Stewart Rhodes of the Oath Keepers, has been charged with seditious conspiracy over the attempted insurrection. A constitutional law scholar outlines why that may set a bad precedent.

Despite growing public discussion of the risk of civil war in the US, a political violence scholar says widespread civil strife is unlikely to happen – but other political violence is more likely.
Health + Medicine
Education
Environment + Energy
Fans of the late actress are calling on Americans to donate $5 or more to animal charities on Jan. 17, 2022, which would have been Betty White's 100th birthday.

While surface temperatures were about the 6th warmest on record in 2021, the upper oceans were at their hottest – and they're a stronger indicator of global warming. A top climate scientist explains.

Forests around the world will need to shift their ranges to adapt to climate change. But many trees and plants rely on animals to spread their seeds widely, and those partners are declining.
Arts + Culture
Podcast 🎙️
From our international editions
The Conversation Quiz 🧠
The brain requires what percent of the human body's energy needs to perform all of its functions?
2%
20%
40%
60%
Click here for the answer.
Like this newsletter? You might be interested in our weekly emails: