Despite the widespread acceptance of LGBTQ people in the U.S., stubbornly few active athletes have come out of the closet. In America's four major sports leagues, just two – Michael Sam and Jason Collins – come to mind.
John Affleck, who has been practicing and teaching sports journalism for over 30 years, is well aware of the homophobia ingrained in sports. So when Carl Nassib, an established football player for the Las Vegas Raiders, revealed this week that he is gay – and was applauded by the league and his peers – it represented a watershed moment for the hypermasculine NFL and fit a broader, if slow-moving, trend.
Also today:
For Pride Month we've put together a series of email newsletters on transgender young people. The four emails, delivered over about a week, recap a series of articles written by leading academics exploring the history, medical care and conflicts, such as youth sports, caused by the rising visibility of transgender teens in society. You can sign up for the newsletters here or click the button below.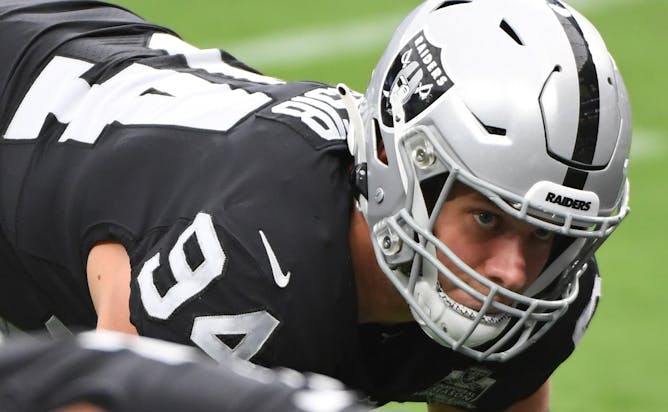 The quest to combat discrimination against LGBTQ athletes has been long and fitful, particularly in male team sports.
Science + Technology
If an organization that has your data gets hacked, your vulnerability depends on the kind of attack and the kind of data. Here's how you can assess your risk and what to do to protect yourself.

Before new policy can be based on evidence, decision-makers need to understand the relevant research. Intermediaries between scientists and policymakers translate information and build relationships.
Ethics + Religion
Kentucky lawmakers are trying to make the state the 21st to enact a ban on conversion therapy. In states that are 'silent' on the issue, nonprofessionals are allowed to continue the harmful practice.

For Tibetan Buddhists it is important that they are in charge of the selection process for the next dalai lama, but China wants to appoint its own.
Environment + Energy
The area's iconic national parks are home to grizzlies, elk and mountain snowfall that feeds some of the country's most important rivers. The region is warming quickly.

Palm oil is responsible for widespread deforestation and labor abuses, but it's also cheap and incredibly useful. That's why many advocates call for reforming the industry, not replacing it.
Education
Gifted programs may have to revamp the way they operate in order to benefit all students, new research suggests.

Her giving style is unusual for a billionaire donor.
Trending on Site
Astronomers know a lot about what's in outer space – and think it's possible it never ends.

The high costs of the world's colossally unequal COVID-19 immunization rates.

The COVID-19 vaccines are a smash success. But that doesn't mean they keep every vaccinated person completely free of the coronavirus.

---

Today's graphic