Last night, Donald Trump and Joe Biden met in the final debate of the 2020 presidential campaign. Patrick Stewart, a political psychologist, watched with the sound turned down, focusing less on the rehearsed answers and more on the space between talking points. Politicians can often control how they act, Stewart writes, but not how they react – and those reactions can be telling.
Also today: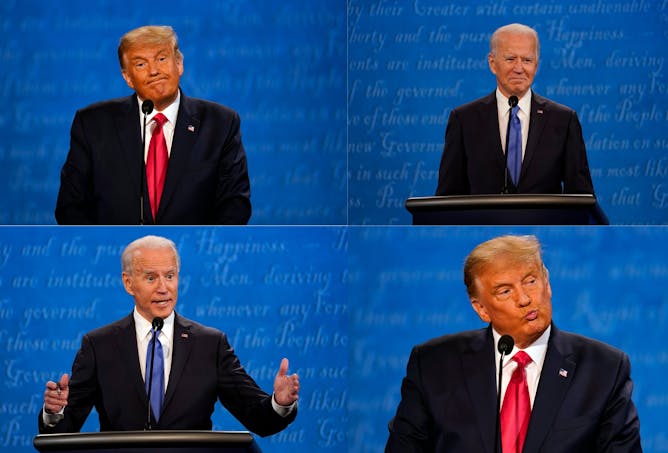 From laughter to funneled lips, the presidential candidates at their last debate signaled via expressions and non-verbal responses what they were feeling.
Science + Technology
It's draining and depressing to stay on high alert month after month after month. Understanding pandemic fatigue better might help you strengthen your resolve.

Scientists in the UK and Germany discovered a new doorway that the COVID-19 virus uses to infect human cells. This reveals new therapeutic possibilities for blocking the virus.

Plastic waste is a global problem. Now a chemist has developed a new strategy for breaking down the most common plastic so it can be not just recycled, but upcycled into desirable goods.
Politics/Election '20
In Florida and North Carolina, mail ballots cast by minority voters and Democrats are disproportionately likely to face rejection.

Leaders need to focus on minimizing the COVID-19 harm to both lives and livelihoods if they're to win support from the electorate.

Explanations of how the US election system works, the history of how it got that way and what effects and significance those mechanisms have on the nation today.
Ethics + Religion
The pontiff hasn't changed church teaching on marriage in indicating support for same-sex civil unions. Rather, he is reminding Catholics they should be concerned about justice for all.

During the pandemic, the practice of faith has moved to being a more personal one for many. A scholar of the Judeo-Christian tradition explains how tragedy often resulted in private piety.
Health + Medicine
Over the approaching holidays, people around the world will want to travel to see friends and family. Getting tested for the coronavirus can make this safer, but testing alone is not a perfect answer.

There are plenty of ways to enjoy the holiday without trick-or-treating, but you still need to make sure you are socially distancing and wearing a mask – and not just one for Halloween.
From our international editions
Although the Nigerian government has announced the disbanding of the Special Anti-Robbery Squad, protesters have not let up. They are now calling for wider reforms.

Australia's increasingly fractious relationship with China has taken another blow after the 'Quad' meeting in Tokyo.

Some nations are concerned the Artemis Accords represent a US power grab.