Editor's note
With a surge of critically ill COVID-19 patients, several states are providing doctors guidelines to allocate scarce resources such as ventilators to those who are more likely to survive. These policies will predictably favor younger patients over older and healthier over those with chronic diseases.
While this may seem to be best way of saving as many lives as possible, University of Virginia legal scholar Deborah Hellman, who studies discrimination, argues that some groups will end up suffering more than others – and among them will be those with disabilities.
Also today:
Kalpana Jain

Senior Religion + Ethics Editor
Top story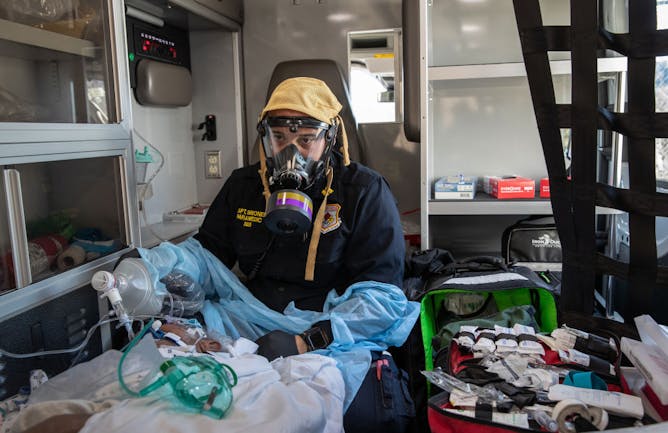 Doctors face difficult choices about rationing medical care. A scholar who studies discrimination argues that those with chronic illnesses and disabilities will be hit the hardest.
Politics + Society
Throughout the coronavirus crisis, President Trump has made inconsistent statements about who is responsible for key aspects of the nation's response to the pandemic. The Constitution has the answer.

Beijing is touting its role in the world and praising its autocratic governmental system and its huge countrywide surveillance network. Hawks in Washington aren't impressed.

A trove of essays long forgotten in the archives of the Hoover Institution give insight into what attracted everyday women to extremist ideology.
Arts + Culture
Health
It is not surprising that being unhealthy makes you more vulnerable to COVID-19 infection. But what may worry you is just how many Americans are in this high-risk group.

It is impossible to anticipate if, how or when COVID-19 might take a loved one. But there are ways to prepare.
Economy + Business
Policymakers need to figure out ways to sustain the behaviors that are helping flatten the curve as cities begin to end their lockdowns.

As more and more Americans are laid off, employers have to consider the cost of letting their staff go.
Science + Technology
America's news reports and social media chatter open a window into the nation's psyche. An AI-based text analysis of these words shows that the coronavirus is driving up familiar social ills.

Understanding isolation's effects on regular people, rather than those certified to have 'the right stuff,' will help prepare us for the future, whether another pandemic or interplanetary space travel.

Both cats and dogs can become infected with the coronavirus. The chances of them getting sick or passing it on to you or another animal are extremely low.
Education
Most read on site
When the 1918 influenza pandemic struck India, the death toll was highest among the poor.

Then – as now – the wealthy fled to the countryside, while the urban poor were forced to work on the front lines.

Part of the problem was a mismatch between the influenza strains circulating and the vaccine available. Here's how annual flu shots are formulated.