A House majority, including 10 Republicans, voted yesterday to impeach President Donald Trump for his role inciting the riots at the U.S. Capitol last week. The trial in the Senate likely won't take place until after the president leaves office on Jan. 20, leading some to question the point of impeachment.
Scholar Michael Blake, who writes about the moral justifications of social and legal institutions, argues impeachment is not about control or punishment, but aims to mark the moral limits of a presidency.
Also today: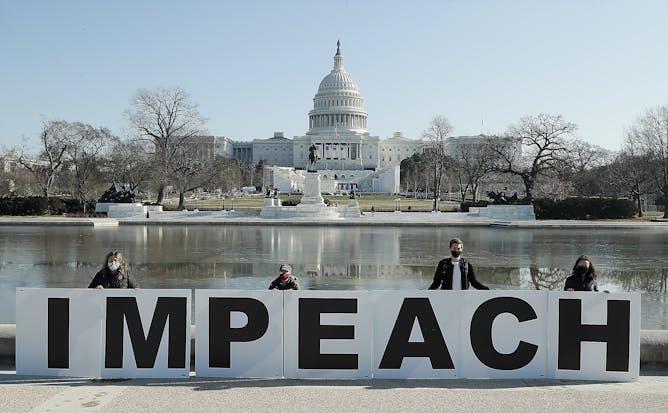 Even though a House majority voted to impeach, President Trump, the process will likely not be finished before he's left office. A philosopher argues why the impeachment is an important moral action.
Ethics + Religion
Science + Technology
Massive vaccine distribution efforts take a lot of coordination. The rollout of the Salk polio vaccine in the US in 1955 holds lessons for those delivering COVID-19 shots today.

'Orphan drugs' with high price points are being tested as treatments for COVID-19. There's a better way to spur low-cost innovation for new drugs.
Politics/Election '20
Since its creation, the infamous diagonal blue cross with white stars on a red background has been a symbol of white resistance to giving Black Americans more political power.

Pointing out the benefits of white privilege has become a racial justice rallying cry, but associating 'white' with 'privilege' in the classroom can harm academic performance among students of color.
Education
When a community reopens its schools and COVID-19 rates increase, other factors – not the reopening of schools – may still be to blame, new research finds.
Arts + Culture
Most read on site
Anti-nutrients naturally occur in food and can block the amount of other nutrients available for your body to use. But their effects aren't all bad, which is why they're undergoing an image makeover.

Who cares what happens to bootprints on the Moon? All humans should. And thankfully the US Congress and president agree.

There's no going back to normal after COVID-19, partly because our pre-pandemic world was anything but normal.