The generals who took power over Myanmar in a coup earlier this year keep killing in their ruthless campaign to crush a popular uprising against military rule. Over 500 people have been killed in the Southeast Asian country since the Feb. 1 coup, including 40 children.
Myanmar has been a military dictatorship on and off – but mostly on – since the 1960s. But the army "wasn't always a repressive force," writes Tharaphi Than in this brief history, which explains how Myanmar's generals got so powerful – and so brutal.
Also today: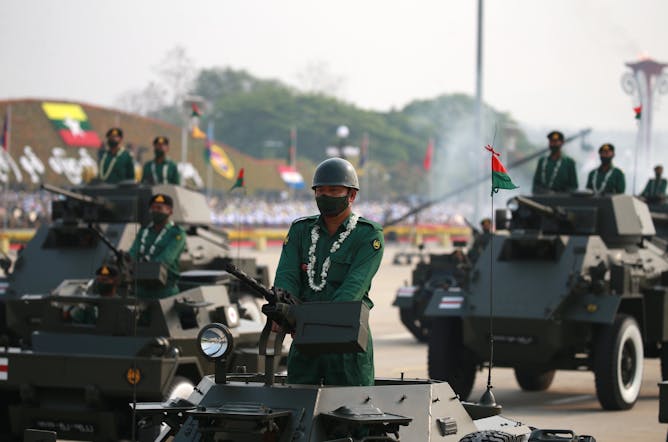 What began in the 1940s as a revolutionary army created to liberate Myanmar from British colonial rule soon turned repressive. The country has been a military dictatorship on and off since 1962.
Environment + Energy
As sea levels rise along the Atlantic coast, saltwater is intruding inland, killing trees and turning coastal forests into marshes. Should scientists try to slow the process, or work with it?

Right now, the nation is almost entirely dependent on other countries for minerals that are used in everything from wind turbines to strike fighters and satellites.
Arts + Culture
Half of LGBTQ participants in a recent study experienced discrimination, insults, bullying or abuse while playing, watching or talking about sports.
Health
Science + Technology
Leeuwenhoek, who discovered bacteria, is one of the most important figures in the history of medicine, laying the groundwork for today's understanding of infectious disease.

In American Sign Language, some words rhyme, some look like what they mean and some are used more often than others. A new database of these features paves a pathway for ASL research.
From our International Editions
Although there had been an increase in violence in Niger since the last election results were announced, the attempted coup, on March 31, raised concerns to a new level in the volatile country.

Researchers unearthed the 105,000-year-old artefacts from a spiritual site in southern Africa. Although far from the coast, the area is associated with stories of a great water snake.

Men who identify as feminists self-report more frequent sex and higher levels of sexual satisfaction. The other 60 per cent aren't having as much fun, according to the findings of a new study.

---

Today's graphic