A couple of weeks ago – after the Trump campaign rally in Tulsa during which there was no enforcement of mask wearing or other coronavirus protections – I felt it was the right moment to examine how the president is handling the crisis. I wanted a leadership scholar to offer an honest, diatribe-free analysis of President Trump's management of the pandemic, set within the historic context of how other leaders have handled similar crises, including those who have failed.
It comes down to trust, explains University of Richmond leadership scholar Kenneth Ruscio in an elegant and thoughtful essay. The absence of trust not only "jeopardizes an effective response to a health crisis," he writes, but "also creates a political crisis, a loss of faith in democracy as a way to govern ourselves."
Also today:
Naomi Schalit

Senior Editor, Politics + Society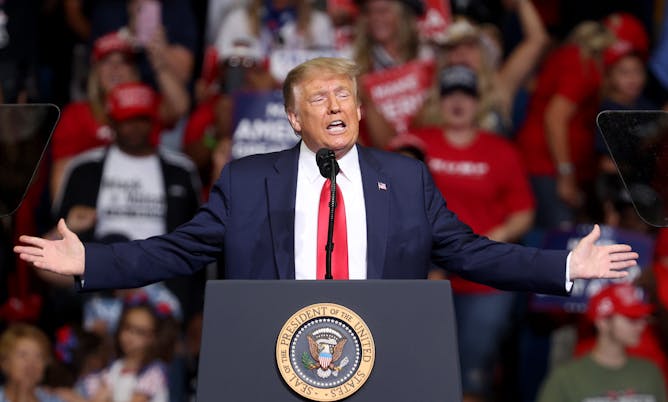 The absence of trust in a nation's leader and government jeopardizes an effective response to a health crisis. It also creates a political crisis, a loss of faith in democracy.
Education
Ethics + Religion
A bioethicist argues that the problem of health disparities existed long before COVID-19 struck with a vengeance in marginalized communities.

In July 1995, Serb forces murdered at least 7,000 Bosnian Muslims – an act so heinous it forced the US and UN to intervene in Bosnia's war. What has the world learned since then about ethnic violence?
Health
The purveyors of these myths, including politicians who have been soft peddling the impact of the coronavirus, aren't doing the country any favors.
Economy + Business
Environment + Energy
Science + Technology
People live on Earth, not in zero-gravity. A stem cell expert explains why it is useful to do these experiments in space.

Brains recognize a smell based on which cells fire, in what order – the same way you recognize a song based on its pattern of notes. How much can you change the 'tune' and still know the smell?
Politics + Society
Indigenous communities were already suffering badly under Bolsonaro. Now, COVID-19 threatens their very survival.

The federal government's fight against cocaine distribution wrongly assumes that it's all destined for the US.
Trending on site
As if the symptoms of COVID-19 were not disturbing enough, physicians have noted a rare neurological condition that emerges during some severe cases of this viral infection.

Tens of millions of Americans who have been telecommuting during the pandemic may have to head back to the office as governors lift stay-at-home orders. Here's what you can do if you'd rather not.

Severe scrutiny of two major papers, including one about the effectiveness of hydroxychloroquine, is part of science's normal process of self-correction.