More than 100 people lost their lives due to Hurricane Ian, according to the latest estimates. The storm also leveled devastating blows on many homes, leaving thousands more with nowhere to live unless they rebuild or move away.
With housing costs increasingly unaffordable and insufficient insurance a daunting problem in Florida, where most of the damage occurred, many residents will be turning to the government and nonprofits for help in getting a roof over their heads again – eventually. Michelle Annette Meyer, a Texas A&M disaster recovery scholar, explains what aid is available, how this money is disbursed and why it typically takes years to obtain, if it ever arrives at all. "I have seen this process frustrate or overwhelm survivors," she writes.
Also today:
Emily Schwartz Greco

Philanthropy + Nonprofits Editor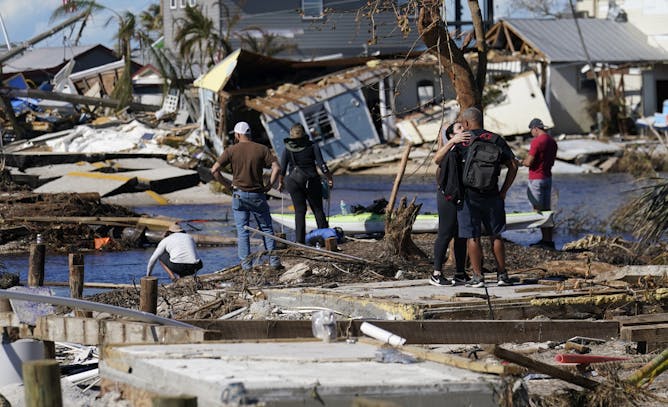 Many government agencies help people whose lives are thrown off course, but not everyone is eligible or able to access that aid.
Economy + Business
Science + Technology
Thousands of ancient genomes have been sequenced to date. A Nobel Prize highlights tremendous opportunities for aDNA, as well as challenges related to rapid growth, equity and misinformation.

The discovery that particles can be spookily connected has lead to a technological revolution.
Environment + Energy
About 9% of homeowner property claims nationwide are filed in Florida, yet 79% of lawsuits related to property claims are filed there.

Remember hearing about COP26 in Glasgow last year? There's a lot at stake in this year's climate summit, so here's your essential guide to prepare.
Health + Medicine
The US currently has only one antibiotic available to treat gonorrhea – and it's becoming less effective.

October is awash in seas of pink T-shirts, balloons and ribbons in honor of Breast Cancer Awareness Month. But this messaging fails to recognize people who are not cured of the disease.
Ethics + Religion
Politics + Society