Treasury Secretary Janet Yellen is arguably the most powerful economist in the world, making her an excellent role model for women in the early stages of a career in the field. Only one problem: She's one of the very few women at the top to look up to.
While other professions with relatively low shares of women, like tech and engineering, have made strides in recent decades, economics remains overwhelmingly male-dominated, from top to bottom, writes economist Veronika Dolar. For example, just 15% of full professors are women, and less than a third of doctorate degrees in economics go to women.
It's a complex problem. But Dolar points to something she and most other female colleagues have experienced firsthand – sexism in economics departments.
Also today:
Bryan Keogh

Senior Editor, Economy + Business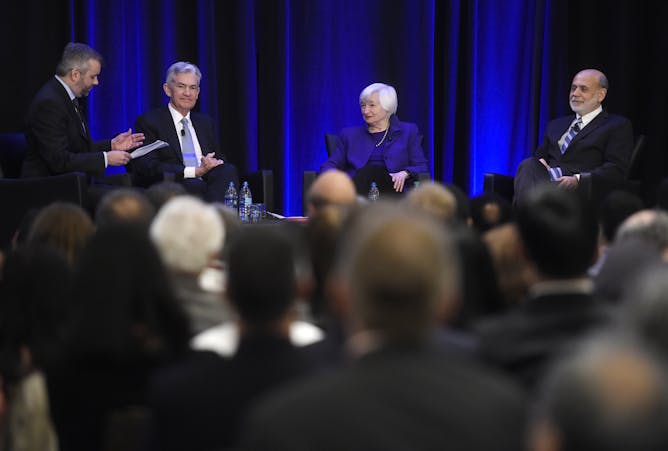 Although STEM professions, especially tech fields, receive most of the criticism, the numbers show economics is actually worse.
Politics + Society
The idea that Washington, D.C., is paralyzed by gridlock rests on half-truths about the legislative process and a basic misunderstanding of how contemporary policymaking works.

Hope does not ride alone. It has a companion: anxiety. A classics scholar who is a poet notes that, at what may be the end of a long and dark pandemic year, both are in evidence.

Racism was an early hallmark of the New Jersey State Police, and remains challenging for police agencies in the 21st century.
Ethics + Religion
Pakistan, created during the 1947 partition, comprised two geographical areas, separated by over a thousand miles. The fault lines between the two regions resulted in the birth of Bangladesh.

The pandemic has exposed inequalities in society. There is concern that tying freedoms to vaccinations may further disadvantage vulnerable groups.
Health
Springing forward for daylight saving time will be especially hard this year due to sleep loss from COVID-19. Why does the US keep doing this?

Because dementia patients are more likely to acquire COVID-19, and because so many live in close-quarter facilities – like nursing homes – it's critical to vaccinate them as quickly as possible.
Environment + Energy
One of the largest groups of 17-year cicadas, Brood X, last emerged from underground in 2004. The next generation will arrive starting in April.
Arts + Culture
Science + Technology
In physics, entropy is the process of a system losing energy and dissolving into chaos. This applies to social systems in everyday life, too. Limiting energy loss can make social systems run better.
Education
From Our International Editions
People who stayed active or became more active in adulthood spent between 10% and 22% less on healthcare.

If the pattern of drought continues in South Africa it's likely to affect the country's financial standing too.

Plastic products that claim to be 'compostable' aren't great either.