Just as the world was about to breathe a sigh of relief that vaccines may soon bring an end to the pandemic, there is news of a possibly more contagious version of SARS-CoV-2 – the virus that causes COVID-19 – spreading in the U.K. Fear of this new strain has led France, Canada and dozens of other countries to close their borders to travelers from Britain.
Should we worry? And will the Moderna and Pfizer-BioNTech vaccines still be effective?
David Kennedy, an evolutionary microbiologist at Penn State University, answers these and other questions about this variant of the COVID-19 virus.
Also today:
Bijal Trivedi

Science and Technology Editor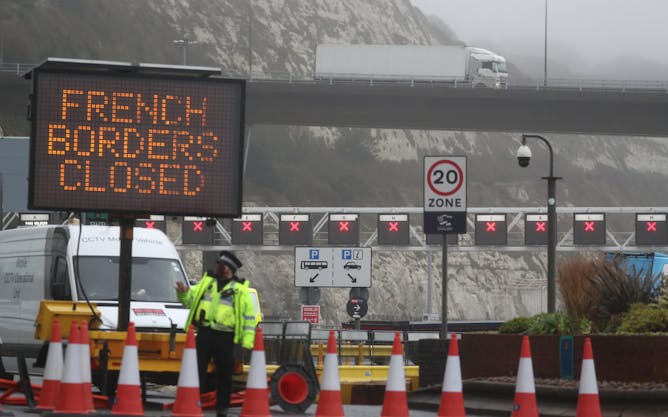 A new strain of the SARS-CoV-2 virus that causes COVID-19 appears to be spreading fast in the the UK. What does this mean for vaccine developers and vaccinations?
Ethics + Religion
When a decision is made and people don't get the outcome they want, they often tend to see it as unfair. Here's why.

Feelings of empathy for others may be plentiful in a year of suffering. But is feeling more empathy to loved ones than strangers morally right? A research team sought to find out.
Environment + Energy
Forced labor is a widespread problem in fisheries on the high seas. Between 2012 and 2018, an estimated 100,000 people may have been victims of forced labor on thousands of different boats.
Health
Now that two COVID vaccines have been authorized by the FDA, questions arise. Today, a physician from Indiana University School of Medicine answers five reader questions.
Politics/Election '20
Arts + Culture
Education
From our International Editions
More than ever, the language used by Elizabeth II could be a source of reassurance for families seeking stability.

If your gut is healthy to begin with, it will take more to knock it out of whack. Prepare yourself now by making food choices that feed the microbiome and enhance gut health.

India's last cheetah was killed 70 years ago. Should the country import a different subspecies from Namibia?