In the seven decades of Queen Elizabeth II's reign, there were 14 U.S. presidents – all men. So for many American women peering across the pond at goings-on in the U.K., the monarch was not merely a figurehead or a source of royal gossip and intrigue, but she also represented a break from rule by patriarchy. Or as Boston University's royal historian Arianne Chernock writes, "there was something deliciously disruptive about Elizabeth II's reign." It is why many American women traveled to London in 1953 for Elizabeth's coronation, and why some of their daughters and granddaughters will be among those mourning her loss today.
Elizabeth was disruptive in other ways, too. During her tenure, the royal family engaged more with the public, putting their human side on display. It wasn't all smooth sailing, with rumors, disputes and resentments becoming tabloid fodder. But as Sean Lang of Anglia Ruskin University in the U.K. notes, the monarchy survived by "changing its outward appearance without changing its public role" – so much so that by the end of Elizabeth's life, all but the most ardent anti-royalists had given up demands for the abolition of the monarchy and embraced the queen's popularity.
Also today:
Matt Williams

Senior Breaking News and International Editor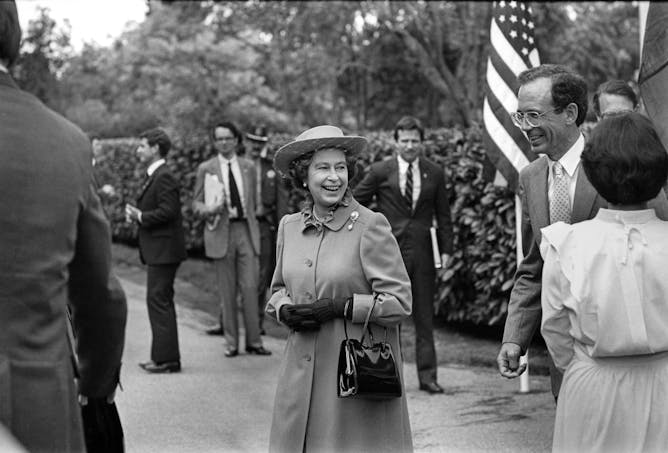 In 1953, 'Queen-crazy' Americans traveled to the U.K. to attend the coronation of Queen Elizabeth II. Their daughters and granddaughters will be among those mourning the monarch's death.
Politics + Society
Elizabeth II was a safe pair of hands for the British monarchy in a turbulent and changing era.

Displays of captured Russian weaponry aim to show the strength of the foe Ukrainians face, but also that victory is possible.
Ethics + Religion
In Nevada, people create a makeshift city toward the end of summer and later burn it down. What's behind this event, and what makes it meaningful?

303 Creative v. Elenis gives SCOTUS another chance to set precedent about what happens when First Amendment freedoms come at a cost to civil rights.
Arts + Culture
Science + Technology
Health + Medicine
From our international editions
The Conversation Quiz 🧠
Test your knowledge with our new weekly quiz. Here's the first question:
Until 2021, minimum salary for this job was around $4,800, but a unionization drive could increase pay. What is it?

A. Red Cross worker
B. Bee keeper
C. Minor League baseball player
D. Rodeo clown